Presidential portrait unveiled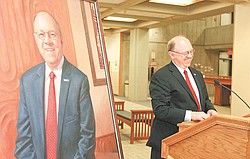 Photo
Youngstown State University President David C. Sweet stood next to a mirror image of himself at the unveiling of his official presidential portrait. It will hang in the foyer of Tod Hall along with the portraits of the university's first five presidents. Sweet's 10-year tenure at the helm ends with his retirement June 30.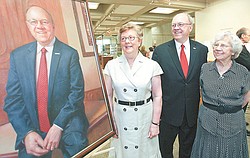 Photo
Youngstown State University President David C. Sweet is flanked by two key women in his life, his wife, Pat, left, and his mother, Esther Sweet, as they admire his official presidential portrait.
By HAROLD GWIN
YOUNGSTOWN
"That's a good likeness," Pat Sweet said as she and her husband, David C. Sweet, unveiled his official presidential portrait at Youngstown State University.
"Too many chins," quipped her husband, who retires June 30 as the university's sixth president.
The occasion was the official presentation of Sweet's portrait to the university and the dedication of the David C. Sweet Exhibit Gallery in the university archives on the fifth floor of Maag Library.
The 30-by-40-inch portrait will join those of YSU's five former presidents hanging in the first-floor foyer of Tod Hall.
Sweet said Tuesday he is "pleased and honored to have this designation," but pointed out that he is more proud of having served as the university's president the last 10 years.
It's been an honor to be part of YSU's proud past and promising future, he told about 50 guests at the unveiling.
Sweet took time to pay tribute to his staff and others who were a part of that process, especially his wife, who he described as both his strongest supporter and strongest critic.
"Dr. Sweet's accomplishments at YSU over the past decade are many and widespread, and his impact will be felt on the campus and in the community for years to come," said George McCloud, vice president for university advancement, who emceed the event.
"President Sweet built the archives," said Paul Kobulnicky, executive director of Maag Library. The creation of the archives was an important vision Sweet had when he came to the university, Kobulnicky said.
The president not only spearheaded its creation and found funding, but also was a user and contributor, he said.
Sweet predicted the archives will become a rich repository of information on YSU.
The portrait cost $10,000 and was paid for with private donations. It was painted by Jeffrey Martin, a Pennsylvania artist.