---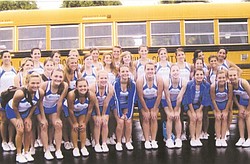 Photo
Neighbors | Submitted.Poland Bulldog cheerleaders, from left, (front) Taylor Cougras, Katie Rubesa, Kayli Jack, Paige Garthwaite, Amanda McAuley, Becca Potkanowicz, Erica Kerr, Brittany Capan, Emily Lyons, Jamie Bakalar; (middle) Danielle Heltzel, Riley Jones, Stefany Goehring, Amanda Hubbell, Stephanie Andrews, Sara Rubesa, Serena Lamping, Kaitlyn Ducsay, Sylvia VanSuch, Courtney Sedall, Marissa Chiaro; (back) Natalie Dragovich, Carolyn Carney, Michelle Rucci, Kelsey Gill, Brianna Bianconi, Makenzie Clark, Mallory Magni and Alyssa Carline participated at the Universal Cheerleading Association's annual camp June 21-25. The girls received the Leadership Award during the four day camp in Akron. Missing from the photo is Jenny Tareshawty.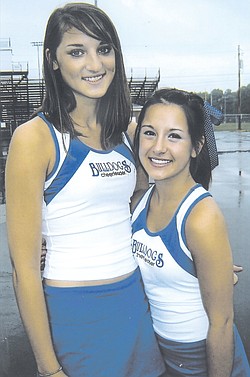 Photo
Neighbors | Submitted.Poland Seminary High School senior Serena Lamping (left) and junior Courtney Sedall were named All-American cheerleaders at the Universal Cheerleading Association's cheerleading camp June 22-25. The award is given to girls who demonstrated talent in an individual tryout in qualifying areas.
The Poland Bulldog freshman, junior varsity and varsity cheerleading squads joined six other schools and were part of 18 different squads from around the state at the Universal Cheerleading Association's annual summer cheerleading camp hosted by the University of Akron June 22-25.
During the four-day workshop, the girls trained on complex drill, new cheers, formations, dance routines, chants and stunts with association staff members. They performed Poland's traditional fight song and a "home" dance they choreographed before camp.
By week's end, the Poland squad received three trophies, multiple blue and red ribbons, yellow superior ribbons, spirit sticks and the Outstanding Spirit Award.
Senior Stefany Goehring was one of 10 girls who received recognition in the America Needs Cheerleader's Pin-It Forward national campaign, which honors girls who have great leadership, spirit, commitment, kindness and motivation.
Senior Serena Lamping and junior Courtney Sedall demonstrated individual talent in qualifying areas and were named 2010 All-Americans.
Freshman Becca Potkanowicz also earned the title as a finalist in the All-American jump-off.
The Poland squad continued tradition and captured the prestigious Leadership Award.
The recipient of the award is chosen by all camp participants and is given to the team that possesses great leadership qualities and stands out amongst the others.