INDICTMENT UPDATE: Read the complete Oakhill indictment here
Oakhill Indictment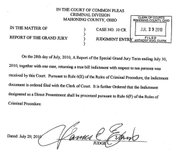 Document
2.3 MB file
YOUNGSTOWN — Seven people were indicted today by a Mahoning County grand jury on charges of corruption in connection with the county's purchase of Oakhill Renaissance Place.
Mahoning County Commissioner John A. McNally IV, County Auditor Michael V. Sciortino, then-county treasurer John B. Reardon, attorney Martin Yavorcik, businessman Anthony M. Cafaro Sr., Flora Cafaro and former Jobs and Family Services Director John Zachariah plus the Cafaro Co., the Ohio Valley Mall and the Marion Plaza were all named in charges in connection with county's purchase of Oakhill.
Read the complete indictment by downloading this PDF.