Poland is ready for regional
By CHUCK HOUSTEAU
POLAND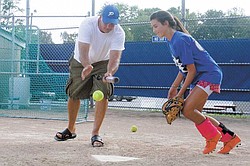 Photo
Poland's Dani Rutana, right, practices fi elding a bunt hit by coach Chuck Masluk during practice North Elementary fi elds on Tuesday. Poland's 11-12 softball all-stars play in the Little League Central Region tournament in Carthage, Mo., starting Saturday.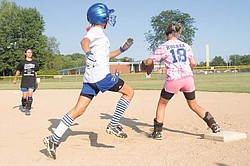 Photo
Abby Masluk, center, makes her way to fi rst base, as Maddie Rowe, left, throws to Aleah Hughes during Poland's 11-12 Little League softball practice on Tuesday.
The success of the Poland High softball program has inspired a group of 11-12-year-old township girls who are hoping to make highlights of their own beginning Saturday in Carthage, Mo.
The 12 players, coaches and members of their families will depart Thursday on a chartered bus for a trip to the Little League regional tournament.
The team, managed by Chuck Masluk, recently captured the state championship by winning four straight games in Portsmouth.
Poland joins 12 other teams from the Central Region in a pool-play format that will determine who earns a trip to the Little League World Series in Portland, Ore.
Poland is guaranteed to play four games in its pool with the two best records in the pool moving on to a single-elimination tournament.
Poland opens against the Indiana champion Saturday at 8 p.m.
"This is a great accomplishment for these young girls," said Masluk. "The excitement level is great. A little bit of the pressure is off because of winning state, everyone thought we should win state, and honestly we were the best team there.
"The girls played well at state but we have no idea what we will be facing in the regional tournament."
The Poland team has won with a mixture of outstanding pitching, great fielding and solid and timely hitting.
Aleah Hughes heads a strong pitching corp that includes Clair Testa, Ally Deemer, Arlia Duarte and 11-year-olds Megan Marsico and Kristyn Svetlak.
"The key to our success is we have wonderful pitching, there is no shortcoming there," said Masluk. "There is not one superstar on the team which is great because the girls rally around each other and we can pitch girls because of their diverse talents and according to what we perceive the weakness of our opponent."
Poland's offense has plenty of speed in the batting order and Masluk said the team is very aggressive on the bases.
Abby Masluk is the team's leadoff batter and is the catalyst of the offense which features Deemer, Hughes and Jenna Schettler in the middle of the order.
One of the team's top defensive players is shortstop Kathryn Wilson who heads an infield that consists of Duarte at third, Maddie Rowe at second and either Deemer or Hughes at first. Dani Rutana is the team's catcher.
Outfielders are Masluk, Cara Kalouris, Schettler, Testa, Svetlak and Marsico.
Masluk is assisted by coaches Dave Marsico, Duane Hughes, Rich Deemer and Don Schettler.
Wilson, who was recently in a severe car accident along with Duarte, said she is healed and ready to play and can't wait to see how well the team plays in Missouri.
"I'm psyched to go and be with everybody and play the best teams," said Wilson. "It's amazing how much fun this has been. Everybody on the team is so close and we enjoy playing the game."
Wilson and Duarte both said that watching the high school team and having their players come to the practices has been a motivating force for them to succeed.
The last Poland 11-12 year-old team to make it to the regional featured current high school players Jenna Modic and Erin Gabriel.
"We enjoy them coming to practices and showing us different things," said Wilson.
But Duarte said Poland's prior success drives her to be even better.
"To be honest with you, we want to be even better than them when we get to high school," said Duarte. "Everyone here wants to play on the high school team when we get there and continue the tradition.
"We'd like to go even further than they did and go on to the World Series."
Masluk said that this group of girls has been playing travel ball together for the last three years and that has helped molded their current success.
"We're looking forward to this," Masluk said. "This entire year has been truly exciting."