Guitarist Ronnie Wood's work gets fall gig at the Butler
By GUY D'ASTOLFO
dastolfo@vindy.com
YOUNGSTOWN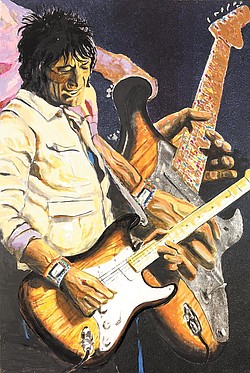 Ronnie Wood

Photo
A close-up of a self-portrait of the musician. Wood, 63, has been painting and drawing since he was 12 and took formal art training in London.

Photo
Ronnie Wood, guitarist with the legendary rock group The Rolling Stones, paints a self-portrait. An exhibition of his artwork opens Sept. 21 at the Butler Institute of American Art, Wick Avenue, Youngstown.
An exhibition of artwork by Rolling Stones guitarist Ronnie Wood will open Sept. 21 at the Butler Institute of American Art and run through Nov. 21. Wood will attend an artist's reception at the museum on opening day.
Titled "Ronnie Wood: Paintings, Drawings and Prints," the exhibition will be the rocker-artist's first at a major American museum.
Wood, 63, is famous as a musician, but his skill as a visual artist is not as well-known. Nevertheless, his art is lively and appealing, according to Louis Zona, chief curator and director of the Butler. Zona expects the exhibition will attract a lot of people to the museum.
"Ronnie Wood is a most-accomplished painter whose work demonstrates a wonderful knowledge of the medium, outstanding technical abilities and an extraordinarily creative mind," he said.
Included in the Butler exhibition are 30 paintings, 22 pen-and-pencil drawings and seven mixed-media works.
Wood was born in Middlesex, England, into a musical and artistic family. He began painting and drawing at age 12 — before he took up the guitar — and received formal art training at Ealing College of Art in London.
Even after his musical career took off, Wood continued painting and drawing. He often depicted the musicians and celebrities with whom he associated, and his world tours, in vibrant portraits. He also uses family and close friends — as well as the landscape — as subjects.
"Every artist with a reputation has, generally speaking, explored their own world," said Zona, in describing Wood's subject matter. "I heard a painter once say he would never paint a portrait of somebody he did not know. Like Andrew Wyeth painted the landscape of his Pennsylvania home, Wood paints the landscape of rock."
Zona was very impressed by one unique aspect of Wood's work: pen-and-ink sketches of cartoons and caricatures. "They are very well done," said Zona. "Some are reminiscent of 19th-century European cartooning. He's got a special talent there."
Although the Butler exhibition represents a milestone for Wood as an artist, his work has been widely exhibited. In 1996, he had a retrospective at the Museum of Modern Art, Sao Paulo, Brazil. He also has had numerous solo shows in North and South America, the Far East and Europe.
Wood's musical career began in 1964 when he joined the rock band The Birds. In 1968, he joined The Jeff Beck Group, which split up in 1970. Wood, along with Rod Stewart, who was the band's lead vocalist, then joined up with some former members of the Small Faces in a new group dubbed the Faces. Wood joined the Rolling Stones in 1975 and is still with the band.
The art exhibition at the Butler is part of the museum's Influence on America Program, which features work by historic and contemporary artists who have been inspired by, or whose work has been informed by, American art. Actors Peter Falk and Jessica Lange and singer Tony Bennett also have been exhibited at the Bulter as part of the series.
A full-color catalog will be created to accompany the Wood exhibition, written by Zona and David Shirey, a dean of the School of Visual Arts in Manhattan and a former art critic for The New York Times. The exhibition and catalog are funded in part by the Mahoning County Convention and Visitors Bureau, the Ohio Arts Council, City Printing Co., Atty. Michael Morley, Y-103 FM and WFMJ-TV 21.
Invitations to the opening reception at 8 p.m. Sept. 21 will be mailed to Butler members. Nonmembers can request an invitation after Aug. 10 by calling the Butler at 330-743-1107, ext. 210, or online at butlerart.com.