3 teens charged in fight, baseball-bat assault
By ED RUNYAN
Fight in Warren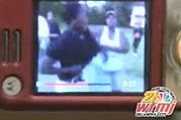 Video
WARREN
Police arrested three teenage boys Tuesday morning and charged them in a fight that left a 15-year-old boy in critical condition with a head injury suffered when hit with a baseball bat.
Of the three, Johntee Daniel, 16, faces the most charges — two counts of felonious assault and one count of assault, a misdemeanor.
Jovan Daniel, 15, is charged with one count of felonious assault; and Shawdon Flowers, 15, is charged with one count of complicity to felonious assault.
But Warren police spokesman Sgt. Jeff Cole and the assistant Trumbull County prosecutor handling the case, Stanley Elkins, won't say which of the three is the boy seen in a video captured on a cell phone, assaulting Verdarell Lowery, 15, of Logan Street Southeast.
Elkins said the charges filed relate to three assault victims.
Verdarell remains in critical condition in Akron Children's Hospital in Akron, Cole said.
Verdarell was struck while standing in the middle of a large fight on Brier Street at Duke Avenue Southeast about 8:30 p.m. last Wednesday.
Though it appears in the video that Verdarell was not fighting anyone at the time he was struck, Cole said it appears that the reason Verdarell was struck was because he was part of an ongoing feud and because he was "a participant in a fight."
Cole said that it was important to the investigation that Detective Michael Currington receive a copy of the video.
Police initially had trouble getting the video, even though it was aired on local television last week. Currington received a copy Monday.
Detention hearings were planned Tuesday and today in Trumbull County Juvenile Court for the three boys charged. A detention hearing determines whether the person will be held in the youth lockup while their case is heard in court.
Sometime next week, each youth is expected to have a plea hearing, which is similar to an arraignment in the adult court system, Elkins said.
If convicted on the charges, each teen could be kept in juvenile detention up to age 21, Elkins said.
Family members brought the teens to the police department Tuesday morning for questioning, and police later transferred them to the juvenile-court building on Main Avenue Southwest.
Elkins said no juvenile has been charged as an adult in Trumbull County in at least the past seven years.
More like this from vindy.com