Scrappers rally in ninth, but still come up short to State College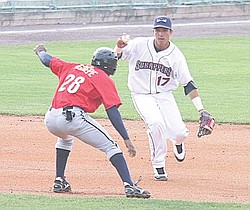 Photo
SCRAPPERS - (17) Kevin Fontanez runs down Gift Ngoepe during their game Monday night at Eastwood field. - Special to The Vindicator/Nick Mays
By CHUCK HOUSTEAU
NILES
The Mahoning Valley Scrappers haven't had many options offensively this season, so trying to come back from a 6-3 ninth inning rally calls for some imagination on Monday night at Eastwood Field.
Mahoning Valley strung together a couple singles with a walk and a ground out to score a run in the final inning, and with two outs they had runners on first and second base.
That's when manager Travis Fryman called for a double steal to try to get the tying runs in scoring position with cleanup hitter Richard Martinez at the plate.
Kevin Fontenez got a great jump and easily made it to third but Carlos Moncrief wasn't as quick getting to second and was gunned down on a close play to end the game.
The Scrappers (14-24) dropped their fifth consecutive game, 6-4, to the Spikes but earned a much-needed day off today.
"We had our chances," said Scrappers leadoff batter Jordan Casas. "We got guys on and had runners in scoring position several times.
"That's kind of been the story of us all year. We had chances late in the game and we took advantage of some of our opportunities but it wasn't enough."
Casas said the current losing streak has been tough on the entire team.
"We're trying. We're working hard every day," said Casas. "The whole team and coaching staff is working hard. It's been frustrating for everyone but there's not much more you can do but work and try to get better every day."
That's why after a tough loss like Monday night's, a day off couldn't come at a better time.
"For a lot of guys this day off will be really good," Casas said. "We have some guys with injuries and it will be nice because some guys are wore down. So getting a day off will be good.
"A nice day off will help get our minds off the losing streak and let us relax a little bit before we get back at it on Wednesday."
The Scrappers season-long hitting woes continued through the first five innings of Monday's contest as they mustered just three base hits and wasted a nice starting effort on the mound by Mike Rayl.
Rayl (0-4) was tough through the first four innings as he matched State College starter Zack Von Rosenberg pitch for pitch.
However, State College got to Rayl for two runs in the fifth.
The Spikes (20-18) opened up a four-run lead by scoring two more runs in the sixth off Scrappers' reliever Kyle Smith.
Cole White singled to start the Spikes' fifth. The rightfielder moved up on a sacrifice bunt and advanced to third on a single by Kelson Brown.
Spikes' leadoff batter Mel Rojas Jr. then blasted a double to right to chase both runners home.
In the sixth, Matt Curry led off with his third single of the game. After Chase Lyles walked, both runners moved up on a groundout and Curry came home on a single by Cole White.
State College got its fourth run when Lyles stole home on a double steal.
Mahoning Valley got a run back in the sixth on an RBI groundout by Justin Toole but the Spikes scored twice more to lead 6-1 in the eighth.
The Scrappers scored twice in the eighth on an RBI single by Martinez and a groundout off the bat of Brian Heere chased home another run.