New airport manager believes more flights on the way
By ED RUNYAN
VIENNA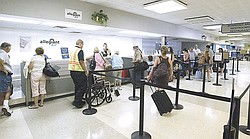 Photo
Passengers wait to check in at the Youngstown Warren Regional Airport. A market survey points out that the top six flight destinations for Mahoning Valley residents are in tourist areas Ñ Orlando, Las Vegas, Tampa, Fort Lauderdale, Fort Myers, and Nashville..
Dan Dickten, new aviation director for the Youngstown-Warren Regional Airport, says he thinks it's likely talks with several airlines will produce additional service at the local airport that will be attractive to local business people.
Among the more promising possibilities are talks with Delta/Northwest that have the potential to produce air service between the local airport and the Detroit Metropolitan Airport four times per weekday and several times on weekends.
Dickten said he has proposed that the service include flights to Detroit at 6:50 and 11:45 a.m. and 3:10 and 6:45 p.m. Delta/Northwest would most likely use a 34-seat jet-prop aircraft for the service, advertised under the name Delta Connection. Such flights can connect local travelers with airports around the world, Dickten said.
"I believe we need four flights each weekday to make it work" for business travelers, he said.
Another possibility would involve United Airlines using a 50- to 70-seat aircraft to fly between Chicago O'Hare, Youngstown and Dulles in Washington, D.C., Dickten said. A meeting in Chicago on that proposal will take place in August or September, Dickten said.
Those talks are in addition to meetings Dickten had with four airlines in San Diego in June. He met with Trans States Airlines, Spirit Airlines, Gulf Stream International and Vision Airlines.
Trans States would potentially offer service between Youngstown and Washington, D.C.; Spirit would potentially provide leisure flights between Youngstown and Fort Lauderdale; Gulf Stream would potentially offer flights between Youngstown and Cleveland; and Vision would potentially offer flights between Youngstown and two business destinations to the east and a leisure destination in the South.
All four airlines have asked for updated market information on the local airport, Dickten said.
The main reason Dickten has hope that an additional airline will join Allegiant, which provides flights to and from Orlando and Myrtle Beach, is because Allegiant has succeeded and grown since it arrived in 2006.
"We think it's just a matter of who's coming first," Dickten said of another airline.
Allegiant has expanded service in two ways this year.
First, it initiated two flights per week to Myrtle Beach.
Second, its suspension of Orlando flights during the fall has been eliminated this year, meaning that two flights will be offered all 52 weeks in 2010.
The industry measurement called "load factor" — indicating how many or few empty seats are on each plane — has been at a good level, and that also encourages other airlines to come here, Dickten said.
Dickten has teamed up with Eric Planey of the Youngstown-Warren Regional Chamber on the project. Planey plans to meet with business officials to seek a commitment that they would use a certain type of air service if it were available, Dickten said.
"That's what airlines want — what puts butts in the seats," Dickten said.
A merket survey points out that the top six flight destinations for Mahoning Valley residents are in tourist areas — Orlando, Las Vegas, Tampa, Fort Lauderdale, Fort Myers and Nashville.
Destinations that might be classified as business come next — Phoenix, Atlanta, Chicago O'Hare, Los Angeles, Chicago Midway, San Antonio, New York, Dallas/Fort Worth, Baltimore, Seattle and Boston.
Though a previous study based on responses from Mahoning Valley business people indicated that flights from Youngstown to Philadelphia International Airport are among the ones business people most desire, the newest study puts Philadelphia at No. 18 on the most-used list.
The newest study, conducted by Air Service Partners of Alexandria Va.. indicates Allegiant has already tapped into the most lucrative market for Valley fliers, taking 25,800 people to Orlando in 2009. The airports in Pittsburgh, Cleveland and Akron, among others, provided another 18,564 flights to Orlando in 2009.
Pittsburgh International Airport gathers the largest share of Mahoning Valley fliers — 52 percent, with Cleveland Hopkins second at 40 percent and Akron Canton at 8 percent.
If the local airport attracted two new airlines, Dickton believes the percentage of flights that originated in Youngstown in 2009 — 11 percent (25,800 flights) could be increased to around 40 percent (around 92,300 flights).
In addition to the 25,800 Allegiant flights, around 5,200 flights were provided to Atlantic City and Las Vegas by a couple of small airlines, Dickten said.