Boardman's retire-rehire plan to add officer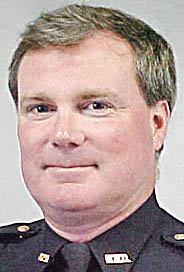 Photo
Boardman Police Chief Jack Nichols
By Ashley Luthern
Boardman
The chief of police, who has 33 years of service with the township, will retire in December.
A day later, Police Chief Jack Nichols would be rehired at a lower pay scale, and a new patrolman would be hired with the savings.
Nichols and the township trustees have a pending memorandum of understanding for the retire-rehire plan.
The trustees, after an executive session of their last meeting July 15, agreed to the memorandum originally drafted June 16. It could be finalized this week.
Nichols' compensation is currently $128,000, which includes salary and benefits. When rehired, it will be closer to $60,000 — leaving $60,000 to be used as the starting salary for a new patrolman.
"This is at no additional burden to the taxpayer," Nichols said, adding that he has contributed to his pension. He will have to wait two months, however, before collecting his pension.
The memorandum has a three-year term beginning Jan. 1, 2011, and an automatic three-year renewal unless the board votes otherwise. With the renewal, the agreement would be effective until Dec. 31, 2016.
The new hire would bring the police force up to 48, and two more officers would be hired when the township receives $524,246 it has secured from a federal grant.
The one-time grant will fund the salaries of two officers for three years and stipulates that the township must pay for the officers' fourth year, said Jason Loree, township administrator.
Another factor enabling the township to hire more officers is the new negotiated wage scale, Loree said.
A starting officer earns $16 per hour, instead of the previous $22 per hour under the old contract, he said. The contract is effective until December 2011.
Township trustees also are in the process of placing a 3.85-mill police levy on the November ballot, which would generate about $3.5 million annually for the police department.