Assault of boy in Warren probed
Fight in Warren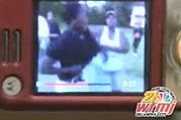 Video
No arrest yet in baseball-bat attack
By ED RUNYAN
WARREN
The Warren Police Department continued to investigate a Wednesday night baseball-bat assault on a 15-year-old boy that his mother says has left him "half dead."
Police had not made an arrest in the assault as of Friday evening, but the department's task has been made more difficult by a lack of cooperation from some of the adults involved, Police Chief Tim Bowers said.
On Thursday, four women, one of them apparently the mother of the victim, Verdarell Lowery of Logan Street Southeast, came to the police department to talk to Bowers.
They had with them a cell phone with video on it showing Verdarell being injured, but they refused to provide the police department with the footage, Bowers said.
"That's your job," one of the women told Bowers, the chief said, adding that at least one of the women also called Bowers a racist and other names.
Bowers said the department would find another way to acquire the footage, which was broadcast Friday on WFMJ-TV 21, The Vindicator's media affiliate.
It showed Verdarell in the midst of a large group of young people that were fighting, wrestling and yelling and then someone coming around behind Verdarell with a baseball bat and hitting him squarely on the head, knocking him immediately to the ground.
At least one young female is seen coming immediately to Verdarell's aid.
Verdarell did not appear to be fighting anyone at the time of the assault and was unaware that he was about to be struck.
A Commerce Street Northwest woman and her son told police Wednesday night that Vardarell and some other boys had gone to Brier Street because they had heard there was going to be a fight.
Police said a 911 caller estimated that 50 juveniles were involved in the fighting. When police arrived, they saw "a large group of juveniles."
The incident took place at the corner of Brier Street and Duke Avenue Southeast about 8:30 p.m.
A resident of nearby Wick Street Southeast who wished not to be identified said the area where the fight took place is generally serene, with only occasional fighting but nothing serious.
He noted that fighting in the neighborhood generally increases in the summertime out of boredom. "There's nothing for them [children] to do," he said.
Though Warren police said Verdarell was taken by helicopter from Forum Health Trumbull Memorial Hospital to Akron Children's Hospital, a spokeswoman at the Akron hospital said it had no record of his being there. She said patients have the right to "opt out" of being listed as a patient.
Verdarell's mother, Kim Lowery, told WFMJ Thursday that her son is "half dead" with swelling and bleeding on the brain.
No one answered the door at the Lowery residence Friday afternoon.
Mayor Michael O'Brien said Friday night that solving the crime is "very important to us" and he is hopeful an arrest will be made very soon. The main suspect is a teenager, O'Brien said.
Anyone with information about the incident is asked to call police at 330-841-2660.