Top Rank: Pavlik-Chavez bout 'still possible'
By JOE SCALZO
YOUNGSTOWN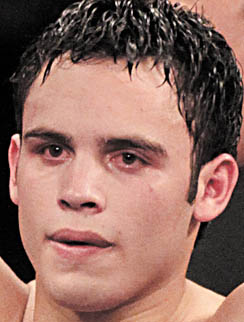 Photo
ASSOCIATED PRESS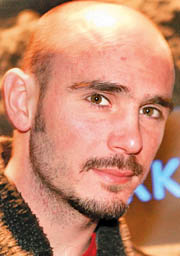 Photo
Kelly Pavlik (Chris Farina/Top Rank)
Julio Cesar Chavez Jr. is a 24-year-old boxer with an unbeaten record (41-0-1, 30 KOs), a top ranking (the WBC's No. 1 contender), a big name (thanks in large part to his famous father) and, presumably, a bright future.
And at some point in the last few days, Chavez's handlers took a step back, reconsidered the wisdom of putting their fighter in the ring with Kelly Pavlik in December and decided, well, maybe it wasn't all that wise.
So, according to several accounts, they nixed it.
Now, Top Rank chairman Bob Arum is hoping to "de-nix" it.
"The fight is not completely off yet," Top Rank spokesman Lee Samuels said Tuesday night. "Bob thinks it's a very attractive fight. He still wants to make it.
"It's still possible. There's still some life in it."
Members of Pavlik's camp were told Monday night that the fight was off. The original date — Dec. 4 — had already been nixed because the proposed venue, Dallas Cowboys Stadium, will hold the Big 12 championship game that day. But Arum, who put together a Manny Pacquiao-Joshua Clottey bout in Dallas in March, is still very interested in having Pavlik headline a bout at Cowboys Stadium.
Pavlik's co-manager, Cameron Dunkin, said the Chavez fight fell apart after Top Rank president Todd duBoef and matchmaker Bruce Trampler approached Chavez's trainer, Freddie Roach, and told him it was a "dumb fight." Top Rank, which promotes Pavlik and Chavez, persuaded Roach to pull out, a decision that didn't surprise Pavlik's trainer, Jack Loew.
"Top Rank is the only one being smart here," Loew said. "I've seen this kid fight. He's not that good. I knew they'd have to come to reality.
"We would have ruined that kid's career. That may have been one of our easiest fights in the last eight freaking years."
The cancellation angered Dunkin, who has grown frustrated with Top Rank over the past few months, believing Pavlik's April loss to Sergio Martinez soured the company on his fighter. He's even asked Top Rank to release Pavlik from his contract, something the company has no plans to do.
"There's no plans to lose Kelly Pavlik; he's one of the top fighters in our company," said Samuels, who said the company was considering 168-pound fighters until Dunkin told them Pavlik was open to staying at 160. "Losing a fight is not the end of the world. We were here in the 1980s with [Marvin] Hagler, [Thomas] Hearns, [Roberto] Duran and [Sugar Ray] Leonard and they all had losses."
Samuels said the company is asking Team Pavlik for a little patience. Arum's energies are focused on Pacquiao's next bout — hopefully against Floyd Mayweather — and said several Top Rank fighters such as Miguel Cotto and Antonio Margarito are in similar holding patterns.
Dunkin doesn't buy it.
"They don't have anything for us, they haven't had anything for us and they still don't," he said "I have no idea what we're going to do."
Although Pavlik (36-2, 32 KOs) planned to jump to super middleweight after losing his middleweight belts to Martinez, he gave the OK to a 160-pound bout with Chavez, believing he could safely make the weight with the help of a nutritionist. This was a surprise to Top Rank since Pavlik turned down a rematch with Martinez at middleweight in May.
Chavez, the son of the famed Mexican fighter, is coming off a unanimous decision victory over John Duddy, whose lone loss came against Niles' Billy Lyell in 2009. He will fight on Sept. 11 in Mexico but his opponent (who has not been named) is not expected to be championship-level. Complicating matters, Chavez has only recently moved up from junior middleweight and may not want to fight someone of Pavlik's size and stature so soon.
"We know Kelly is OK with it but we're not sure what Chavez wants to do," Samuels said. "If we can't do it, we'll [fight] someone else."
Loew said he's open to a big fight at either weight class and would even consider a light heavyweight (175 pounds) bout.
"[Pavlik's] 36-2, he was the middleweight champion of the world — we don't need a tuneup bout and we're not taking a tuneup bout," said Loew. "He wants the biggest fight out there.
"If there's a big fight at [160], we want it. If there's a big fight at [168], we want it. If there's a big fight at [175], let us know and we'll consider it."
Pavlik is vacationing with his wife in Hawaii — they are celebrating their two-year anniversary — and was not available for comment.
So, for now, everyone is watching and waiting.
"We're back to the drawing board," said Samuels. "Kelly's a great guy, a great champion and an action fighter. Action fighters are highly sought after.
"We'll get him a big fight."
More like this from vindy.com