By DAN POMPILI
TheNewsOutlet.org
COLUMBIANA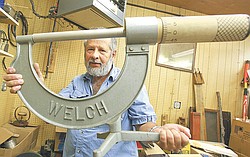 Photo
Richard Zitto of Columbiana displays a classroom demonstration Micrometer, part of his large collection of teaching devices for physics classes. The former Boardman High School and Youngstown State University instructor is giving the Smithsonian Institution 171 pieces of his collection.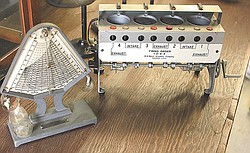 Photo
These historic teaching aids for physics classes are part of Zitto's collection.
A man best known for teaching physics is making a giant contribution to history.
Richard Zitto of Columbiana has been collecting physics teaching devices for most of his 40-year career. Now more than 170 pieces of his collection are making their way to the Smithsonian Institution's National Museum of American History in Washington, D.C.
The items will add to the Smithsonian's Physical Sciences collection, which numbers around 10,000 pieces.
Zitto began teaching physics at Kenton Junior High School in Kenton, Ohio, in 1968 after obtaining his master's degree in physical sciences education from The Ohio State University. In 1970 he moved up to Kenton Senior High School, where he taught until moving to Boardman High School in 1976 where he taught until 1999.
In 1981, he began as a limited service professor at Youngstown State University, where he remained until his retirement in 2007.
During his career, Zitto made an impact on students and colleagues.
Randy Ebie is the principal at Boardman Center Middle School and one of Zitto's former students. Ebie said he always struggled with science in high school, and was planning to study photography in college, until he took a physics class under Zitto in his senior year at Boardman.
Despite his contention that he'd never have another use for the subject, Ebie changed his major to science education.
"I saw him in his office at YSU after that," Ebie said. "He never even looked up, just said, 'So you'll never need physics again, huh?'"
In between teaching and organizing, Zitto began amassing a collection of old physics artifacts, some from as early as the late 1800s. Among the first items he collected were old teaching instruments from The Rayen School of Youngstown.
Now Zitto's collection consumes an office in his basement, his garage, and most of a barn in the backyard of his Columbiana home.
Gregg Sturrus, chairman of the department of physics and astronomy at YSU, said he and other colleagues would frequently encounter old devices in their classrooms that they couldn't identify. Sturrus said Zitto always knew what it was or he was least eager to figure out what it did.
"What's gonna happen to that stuff if someone like Zitto doesn't teach you how to use it?" Sturrus asked.
The answer to that came in late 2008, when a colleague, Thomas Greenslade — a professor of physics at Kenyon College — introduced Zitto to a friend of his, Steven Turner.
Turner is a curator in the division of medicine and science at the Smithsonian's Natural Museum of American History.
Greenslade mentioned two pieces to pique Turner's curiosity: An electrostatic generator and a double-cylinder vacuum pump with a hand-blown glass bell jar. All parts on both pieces were original.
They were both crafted by Benjamin Pike Jr., a renowned physicist from the mid-19th century. Both pieces likely date to that era. Zitto acquired them from a now-closed school in Bloomfield-Mesopotamia area in Trumbull County.
Turner was curious enough to visit Zitto's home and see the pieces for himself. He would visit at least twice more.
In November 2009, Turner spent three days there, rooting through every box and item on Zitto's property, cataloging, and snapping photos. He returned to the Smithsonian with more than 4,000 pictures.
Following his return to Washington, Turner had to submit a proposal to a committee, including an outline of potential exhibits, a request for storage space and an explanation as to why the items should be added to the national collection.
After getting the go-ahead, Turner arrived at Zitto's home last week to collect 171 pieces and have them professionally packed and shipped to the Smithsonian.
"There's a lot of excitement about this collection," Turner said.
"These are time machines," Turner added. "They work the same way now that they did 150 years ago."
Turner said the items are part of a new collection initiative for the Smithsonian. Many of them will find a home in a new demonstration lab that is currently under renovation, called "Sparklab!" It will be open in four years and house numerous artifacts including some of Zitto's.
Some items will go on display in individual cases, while others will be stored out of sight and used infrequently as talking pieces at seminars.
"That kind of fits Dick's personality," said Boardman Schools superintendent Frank Lazzeri. "To want to contribute to teaching hands-on, for kids to learn."
Even while turning over some artifacts to the Smithsonian, Zitto maintained his affinity for his collection.
"I want this stuff saved because of its history and its beauty," Zitto said.
The NewsOutlet is a joint media venture by student and professional journalists and is a collaboration of Youngstown State University, WYSU radio and The Vindicator.