Motorcyclist loses life on deadly curve
By ED RUNYAN
NILES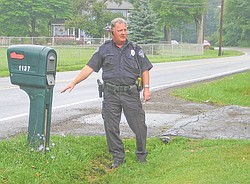 Photo
Niles Patrolman Rick Wilson stands next to a mailbox that was broken in half sometime early Saturday by motorcyclist William J. Jury Jr., 36, of Mineral Ridge. Jury lost control of his motorcycle on a curve and traveled about 150 feet along the side of Salt Springs Road in Niles before landing in a wooded area. He was found dead about 10 o'clock that morning by neighbors after they noticed the damage.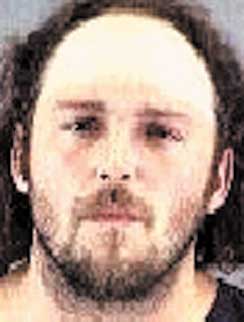 Photo
Motorcyclist Will Jury, 36, of Main Street Mineral Ridge apparently faced the fight of his life early Saturday as he headed west on Salt Springs Road after missing a curve.
His motorcycle left the left side of the roadway and proceeded another 150 feet through two yards — close to the road in front of two homes — before crashing into the woods beside the second home.
A resident of the second home realized something was wrong at 10 a.m. Saturday when she saw her mailbox had been broken off at the top.
When she investigated, she found Jury's motorcycle about 5 feet into the woods and Jury's body about 10 feet further east, just off the roadway.
Niles Patrolman Rick Wilson said the markings in front of both houses suggest that Jury rode a very long way while trying to bring the motorcycle back under control.
"He was battling it," Wilson said of Jury, who was pronounced dead at the scene. The Trumbull County Coroner's office ruled his death an accident, the result of a head injury. Jury was not wearing a helmet.
As Wilson and a fellow officer walked the route Jury took Monday morning, he pointed to two marks in the grass. These appeared to be brake marks, where Jury had tried to stop just before crossing a driveway at 1137 Salt Springs Road.
Looking at a culvert passing under the driveway, Wilson said Jury "would have been better off" if he would have hit the culvert and been ejected into the front yard.
Instead, he narrowly missed the culvert and hit a green, hard plastic mailbox, breaking off the top half.
Wilson thinks Jury may have really lost control at that point, with the man and motorcycle proceeding the last 70 feet at odd angles until they came to rest in the woods.
Police don't know what time the accident occurred. Jury was last seen at closing time — around 2:30 a.m. — at a Warren tavern, police said.
"I feel bad," the woman who found Jury's body said, wishing not to be identified. She said she didn't believe there was any rain overnight to make the road slick.
The woman and her family have seen about a dozen accidents near their home over the past 20-odd years. One of them killed a child who was a passenger in a car that missed the curve, the woman said.
"It's a bad bend. They think they can take it a lot faster than they can," she said. The bend is one tenth of a mile west of state Route 46 near Kerr Cemetery.
Jury was born in Clearfield, Pa., a son of the late William J. and Judy (Owens) Jury Sr. He worked for BDB Trucking in Niles as a diesel mechanic for the past three years, according to Lane Funeral Home Mineral Ridge Chapel.
In addition to loving to ride his motorcycle, he also loved working on cars and spending time with his family. He is survived by his fianc e, Mary White; two sons: Trevor White at home, and Bradley Best of Champion; two step sons, Todd White and Darren Jordonek, both at home; his uncle and aunt, Jack and Connie McCullough of Salem, who raised him; and several other family members and friends.