Judge to Austintown landowner: Clean up your blighted property
By Elise Franco
Austintown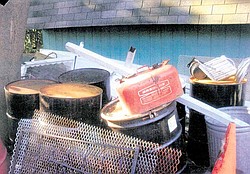 Photo
Robert Elko, who owns this property at 3816 Kirk Road in Austintown, was convicted by Mahoning County Common Pleas Court of violating Austintown zoning laws after he refused to clean up trash and debris, such as these metal barrels, at the home. The township zoning department provided this photo.
The township zoning department took legal action against a resident who refused to clean up his property — and won.
Zoning Inspector Darren Crivelli said Robert Elko has 90 days to remove the garbage, large appliances and vehicles from his vacant property at 3816 Kirk Road.
Crivelli said Elko is due back in court Oct. 6 for a sentencing hearing.
If he hasn't complied with the order, handed down by Judge Lou A. D'Apolito of Mahoning County Common Pleas Court, the court could implement a fine of $500 per day retroactive to the date the case was filed in December 2009.
Elko, who resides at a home on Selkirk Avenue, didn't return calls to comment.
"We've been getting complaints for years," Crivelli said. "The place is just a mess. Basically it's not a house you'd want next door to you."
He said Elko was issued a notice in September 2009 about large amounts of debris on the property, including aluminum cans, a pick-up truck and a dishwasher.
He was issued a notice in October 2009 to remove a backhoe that was left in the yard, which Crivelli said also violates township zoning laws.
"The charges were filed after I sent four total letters and the township zoning office gave him every opportunity to clean up the debris," he said.
Lisa Welsh, who lives a few houses down from Elko's property, said she noticed a problem at the house.
"The township should act in any case to protect the rights and property value of their residents and homes," she said.
Welsh said properties allowed to sit with debris and trash take away from the quality of the neighborhood. "I think it just deters from a nice neighborhood feel," she said. "It's a consistency that's important in any homeowner's choices in where they're going to live."
Crivelli said he wants residents to know that the township does take action on cases such as Elko's, and it's a process that takes time.
"It's been a real point of contention with residents who don't think we're doing anything," he said.
David Ditzler, trustee chairman, said he's pleased with the action taken by Crivelli and the zoning office.
"It takes a lot to bring one of these cases to a court trial," Ditzler said. "Fortunately for us, and on behalf of the neighbors, the court was able to hear it."
Crivelli said in 2010, the zoning office has completed demolitions on three residential properties and has at least three more on the waiting list.
He said Elko's property isn't in danger of demolition, but he wants it cleaned up all the same.
"He completely ignores us," Crivelli said. "He feels it's his right to store junk and debris in clear view, but it's not his right because it's in violation of our zoning laws."
Ditzler said it's not uncommon for the township to field more resident complaints during the summer.
"It's something we've had complaints on for years for people who live in an area where a neighbor doesn't present their property," he said. "When you're trying to sit outside and enjoy the weather it's unfortunate that you have to see that in your neighbor's yard."