IN FOCUS: Erie lakeside resort provides a great getaway for families
Geneva On The Lake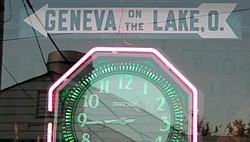 Video
Geneva On The Lake is a popular getaway for Valley residents.
Geneva On The Lake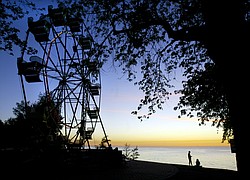 Gallery
Geneva On The Lake is a popular getaway for Mahoning Valley residents.
Geneva-on-the-Lake
STORY & PHOTOS
By WILLIAM D. LEWIS
GENEVA-ON-THE-LAKE
For more than a century, Geneva-on-the-Lake has been a favorite getaway for Mahoning Valley residents.
Located on the shore of Lake Erie between Cleveland and Erie, Pa., the popular resort is a 90-minute drive from Youngstown. Some folks make a day trip to Geneva; others stay at the wide array of lodging available. Many Valley residents own cottages or summer homes at the lakeside resort.
According to visitgenevaonthelake.com, the resort got its start in the early 1900s when three prominent industrialists — John D. Rockefeller, Harvey Firestone and Henry Ford — visited the area during camping and fishing trips.
In the years that followed, the resort became home to dance halls, amusement parks, restaurants, cottages and summer homes.
As the industrialized region between Cleveland and Pittsburgh grew, so did the popularity of GOTL as a nearby resort for the expanding population. More recent additions include The Lodge at Geneva, an upscale resort adjacent to Geneva State Park; and the Adventure Zone, which features a 50-foot climbing wall, bumper boats and batting cages.
A section of state Route 531 in GOTL known by locals as "the strip" is the resort's most-visible landmark. Shops, eateries, arcades, wineries and nightspots line the strip, where on summer nights traffic slows to a crawl and pedestrians line the sidewalks.
Georgette Allison, 80, a former mayor of GOTL who owns a miniature golf course on the strip, says it's "a summer resort where families can come and enjoy themselves on the shores of beautiful Lake Erie."
She adds that it's a friendly place that's reasonably priced. "It doesn't cost you a fortune if you don't want to spend a fortune," she said.
A fixture on the strip for 61 years, Eddie's Grill is known for its food and nostalgic 1950s atmosphere. Owner Eddie Sezon, 78, who started the place when he was 17, often can be seen behind the counter supervising a crew of young workers serving up footlong hot dogs, fries and root beer.
Lou Daus of Canfield, a regular at Eddie's, has been coming to GOTL since 1967.
"I'm here at least once a week," he said.
His favorite fare at Eddie's consists of a cheeseburger, fries and root beer. Daus adds that he often brings a lawn chair and a cigar to enjoy on the beach afterward.
GOTL sunsets are spectacular and often become a social event with crowds gathering near the shore at the Old Firehouse Winery on the strip to watch the sun sink into Lake Erie. The operating Ferris wheel at the Old Firehouse Winery is a great place from which to take in the sunset.
Among those watching the sunset on a recent evening were Tom Leonelli of Youngstown, his wife, Carrie, and daughter, Maria, who have been coming to GOTL for 30 years.
"We love the lake, we love the sunsets. It's like California — it doesn't get any better than this," Leonelli said.
Proximity to Lake Erie, a sense of tradition and a good time for a reasonable price are why generations have flocked to GOTL.
Allison says it's the nostalgia that keeps folks coming back. She encountered a couple recently who said they met on her golf course, and they've been married 30 years.
Allison said she hopes the resort retains its quaint flavor.
"I'm really hoping there aren't a lot of changes. We like the old. I hope the 'oldness' of GOTL stays because that is why people keep coming back," she said.