Canfield extends district play to title game
By CHUCK HOUSTEAU
BOARDMAN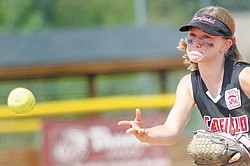 Photo
Canfield's Caroline Griswold pitches to a Poland batter during Sunday's Little League district game at Boardman's Field of Dreams.
Canfield's 9-10 softball coach Glenn Griswold said he had no choice but to "play for the moment" in Sunday afternoon's District 2 championship game against Poland.
Canfield was playing out of the loser's bracket and needed a win to force another game against Poland to have a chance to capture the 9-10 Little League district championship.
Canfield stayed alive in the local tournament by posting an 11-8 win, but not before a lot of twists and turns and using up its ace pitcher in the process.
Tonight at 6, the two teams will meet again at the Field's of Dreams complex with a trip to the state tournament at Willard on July 31 at stake.
"Today didn't go exactly as we planned," Griswold said. "We were trying to play for two days but sometimes there comes a point in a game where you have to play for the moment.
"We needed to win to have a chance to play again."
Griswold started the team's ace pitcher, daughter Caroline Griswold, but was hoping he could use her for a couple of innings and save her for the next game.
In Little League softball, if you pitch more than three innings in a game, you have to have one day's rest before you can throw again.
So when Canfield jumped out to a 5-0 lead after two innings, Griswold saw the opportunity to work his plan.
With the five-run lead and Canfield playing well offensively, Griswold took his pitcher out and replaced her with Madison Johns.
The plan seemed to work perfectly as Johns pitched equally as well for the next two innings and Canfield pushed the lead out to 9-1.
But Poland didn't quit and finally started to show why the team had made it through the tournament unscathed.
Poland got to Johns for six runs in the fifth inning behind four straight hits by Jillian Penman, Amanda Wire, Carlie Lattanzio and Gina Ungaro to cut the Canfield lead to 9-7.
Griswold brought in catcher Mia Kindinnis to pitch but she hadn't seen much action on the mound and walked her first batter.
That's when Griswold handed the ball back to daughter Caroline, which is allowed in Little League play, in order to try and preserve the victory.
Griswold struck out the next two batters to end the inning and end Poland's rally.
"Caroline is our ace and we were trying to save her for tomorrow but we had to win this game for there to be a tomorrow," Griswold said. "We have plenty of pitchers on this team and we have confidence that they can get the job done."
Canfield tacked on two insurance runs in the sixth inning off the bats of Griswold, Kindinnis and Annie Porterfield who provided much of the offense throughout the game for Canfield.
"We average over 10 runs per game," Griswold said. "So we know we can hit the ball."
Poland never got untracked early in the contest but coach Andrew Lattanzio said he expects his team to be ready tonight.
"It was kind of a wake-up call," Lattanzio said. "I think the girls will bounce back and be ready to play.
"We haven't gotten this far by playing bad baseball so I expect us to play well [Monday]."