Lucky Penny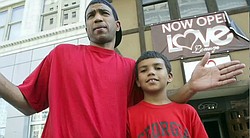 Video
"Lucky Penny", a Youngstown radio personality and club owner, is excited about downtown Youngstown.
Lucky Penny is ready for a chamber of commerce ribbon-cutting on his downtown nightclub. He's ready for his grand opening.
He's ready. Some of his neighbors downtown? Not so ready.
Lucky is the force behind Love Lounge, a hip-hop club that opened downtown on New Year's Eve.
That not everyone downtown is happy with Love Lounge is where this story dances more deftly than some of the downtown patrons.
New restaurants and nightclubs have opened downtown in the last couple years — joining established downtown nightspots to form a sizeable destination district for nightlifers — a largely white, suburban clientele.
Since Love Lounge opened, people struggle for the right word so as not to say the wrong word.
"Hip-hop" and "dance club" are easy terms. "Urban" and "rap" get more specific. "Black" cuts right to the core. And "thug" and "gangsta" are what some of the detractors tag it.
In Lucky's first few weeks of business, as whispers of concern circulated, he was clearly annoyed by it all.
"They say I'll be closed in six months because of problems. I'll show them," is essentially the gist of what he told me back then.
So I waited six or so months.
It's July. He's still open. He has some respect from city officials. He has a good business with loyal customers — black and white, including bikers. He has understanding from many downtown neighbors.
Those he doesn't have understanding from now, he likely never will. It's not because of him, but more so the perception of his clientele. With them, Lucky's liked, but not the bar.
"Don't be afraid of the black parade," Lucky says with more of a smile now. He said it six months ago, but a bit more agitated.
"The perception out of the gate was difficult for me," Lucky said. "People were saying 'This bar would be bad for downtown' and 'These black people are going to scare away my white people.'"
The pressure was tough, he said.
"There was people messing with me. I did not know who to trust," he said.
It made for a less-celebrated downtown opening than, say, The Lemon Grove — a largely white, earthyish, neo-Simon & Garfunkel club that opened six months before Love Lounge and about seven storefronts down.
Love Lounge isn't just a bar for Lucky. It's a dream.
"I've wanted to be downtown forever. I was one of the first dirt-diggers at Covelli Centre. I was on street corners handing out Jay Williams fliers. If I was ever to do a nightclub, it would be downtown."
Love Lounge's bumpy path somewhat mirrors 32-year-old Lucky's.
He grew up on the South Side as Charles Penny Jr. His parents always worried about the neighborhood's effect on him. So they sent him to St. Patrick's grade school, then to Mooney High School for a bit, before transferring to Campbell High School, where it took two turns at senior year to graduate.
He said he wasn't a bad kid, but he wasn't perfect and walked the line as best he could. He entered the Navy, then flopped between Atlanta and Youngstown a couple of times before finally staying here in 2007.
He fashions himself a black entrepreneur along the lines of Sean "P. Diddy" Combs or Jay-Z. His radio show on Jamz-101.9 is popular. He created the Lucky Penny Family Reunion festival through the station, bringing thousands to downtown for two years. And he's had a singing career, can be seen on local cable TV and runs a recording studio on Market Street.
Still, he also longs for local, establishment acceptance along the lines of a Phil Kidd or an Eric Ryan. He knows their clout and wonders a bit, "Why not me?" But he also recognizes their mainstream differs from his streetstream.
He just shrugs — "in time." The club's success is key.
"It's not been perfect," he said of the club he owns with his uncle, Cory Love. On busy nights, 250 to 300 people are there. "But it's not been bad either."
Security is thick at the club, as is police presence. He pays and feeds homeless guys to clean up the streets after closing so city streets are bright the next morning.
"I'm not trying just to cash in. I don't want a drama bar where there are fights and shootings and people doing what you're not supposed to be doing. I want what they have in South Beach [Miami]."
Police Chief Jimmy Hughes said the opening of this type of club brings concern due to the hip-hop culture of guns and violence.
But if run the right way, such a club can work, and Lucky is doing it the right way, he said.
His officers frequently walk inside and are a welcomed presence, he said. They light up their police cars at closing time, but it's for show and encouragement.
Mayor Williams knows Lucky somewhat, but laughs that he's not in the same circles. ("I'm in bed at that time," he said.)
"He's always struck me as someone promoting the city, appealing to a group of young people that some may overlook, but who have potential."
Williams and Hughes say downtown is a special place for the city but cite this reality: More people downtown — black or white — create more crimes of opportunity.
"Any establishment can attract individuals who can bring problems," said Williams, who easily recites other downtown clubs that drew police attention before Love Lounge opened.
"If any venue becomes a problem, it will be dealt with swiftly," Williams said. "Downtown is too important of a venue for young, old, black and white. I won't let anyone put a dent in the momentum of downtown being a place to be."
One Lucky supporter is Lemon Grove's Jacob Harver — two guys who are as different in appearance as are their clubs. Harver said if you came down at 2 a.m. and saw the police lights, you'd think the worst. But it's all for the good.
But other owners who are part of the momentum are less sold at this point.
Mention Love Lounge, and there's a pause. One business closes early due to the Love crowd.
One incident bucks the thug stereotype, though. A business owner pulled out a bullhorn to get Love's crowd to go home after closing. They were lingering on the sidewalk.
"Ya'll got to leave. You don't have to go home. But you can't stay here," the smaller white guy yelled to a large crowd of mostly blacks.
And?
Quietly and respectfully, the Love crowd moved on.
Still, some cite several crime/mob acts that they either saw or heard about. They will point to broken windows and doors, or bottles and cups.
But when pinned down for times and dates, it's clear that some incidents pre-date Love Lounge or easily could have been from other downtown clubs.
Still ...
And that's a "Still ..." that haunts even Lucky to a degree.
He cites the need to run a legit business so as to be a role model for younger black kids who might see only drug dealers as the way to be. One such younger kid is his son.
"I can't let them down; I want to be an example ... and I don't know how long I have to do it."
It's not his business career that he fears is limited. It's his life.
He knows that amid the crowd he defends, courts to downtown and celebrates as possibilities are people who could one day end his life.
"With these guys, these days, you just never know," he said, his voice fading as he recounts the violence. Tracee Banks, the teen girl who was recently killed, was at his house just the week before. He warned her to be careful. Another friend was gunned down on a street corner.
With his business skills and personality vulnerable to that possibility, I suggested he move to a small town for a more secure rise to success.
"No," he says, "this is where I want to be."