Italian festival to mark 25 years
Italian Festival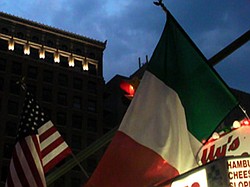 Video
Greater Youngstown Italian Festival
July 30
5-6 p.m.: Opening ceremonies
7-8:30 p.m.: Miss Italian Youngstown beauty pageant
9-10:30 p.m.: Singer Amanda Beagle, a former Miss Ohio
July 31
4-5 p.m.: Polka Mass with Del Rezek
5-7 p.m.: Del Rezek
7:30-9 p.m.: Lena Prima
9:30-11 p.m.: Dick Contino
Aug. 1
Noon to 1 p.m.: Sunday Mass
1-2:30 p.m.: Lowellville Band
3-4 p.m.: Little King and Queen pageant
4:30-7 p.m.: Avanti
7:30-9 p.m.: Dick Contino
9:30-11 p.m.: Lena Prima
Source: Greater Youngstown Italian Fest organizers
By DAVID SKOLNICK
YOUNGSTOWN
Celebrating its 25th anniversary, the Greater Youngstown Italian Fest will feature music, two city blocks of rides, more than 40 food booths and 25 craft and retail vendors.
The three-day festival, in the city's downtown area, opens at 11 a.m. July 30. The festival opens at 3 p.m. July 31 and at 11 a.m. Aug. 1. It closes at 11 each night.
The event attracts 40,000 to 50,000 people annually, said John Rossetti Jr., the festival's chairman.
"People enjoy being downtown and sharing the Italian heritage of the Mahoning Valley," said Rossetti at a Wednesday press conference to tout the event.
The first 10 or so Italian Fests were downtown. But it then moved around to Boardman, Youngstown's South Side and the Canfield Fairgrounds before returning downtown in 2007.
"People enjoy being downtown and getting to see the revitalization of Youngstown," Rossetti said. "People who grew up here and haven't been downtown for years are amazed at what's become of it during the last five to 10 years."
Since returning downtown, attendance to the festival is about 25 percent to 40 percent more than it was at the fairgrounds, he said.
The event is along West Federal Street between Phelps Street and South Avenue and on Market Street between Commerce and Boardman streets.
The event is so large that it takes two days to set it up, meaning those streets will be closed beginning July 28, Rossetti said.
"This Italian Fest has been a part of the downtown renaissance as much as anything," said Mayor Jay Williams, who met with the event's organizers in 2006 and persuaded them to return it to its original home the following year.
Admission is $3 at the gate. Those under age 12 are admitted free.
The festival will include a pasta-eating contest, an Italian-sausage-eating contest, a Miss Italian Fest pageant, a Little King and Queen pageant, a homemade-wine contest, a homemade-beer contest, a grape-stomping contest and bocce and morra tournaments.
The Italian Heritage Foundation of Youngstown, the nonprofit organization that hosts the event, uses profits from the festival to help charitable organizations.
The organization has donated about $150,000 to local charities since 1992, Rossetti said.
Also, it gives four $1,000 scholarships to Youngstown State University students annually.