Flooding woes hit Cortland
By ED RUNYAN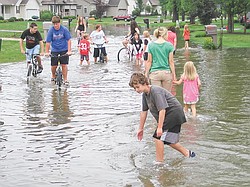 Photo
Neighborhood kids wade through water on Laura Lane in Cortland on Tuesday afternoon. Three hours after a burst of rain hit the neighborhood, parts of Laura and a nearby street were still flooded.
CORTLAND
Residents of Laura Lane were hopeful that the work done on their street in 2005 to alleviate flooding problems that first cropped up in 2003 had done the job.
Tuesday afternoon's 30-minute hard rain and the problems it brought to Laura and the surrounding streets just off of state Route 305 suggest otherwise.
Laura resident Tom Wills got a phone call from his daughters around 3 p.m. Tuesday to come home when they noticed that the storm water was rising up from the street and was just a short distance from their house. Wills' daughter, Emily, went to the basement to see that water also was rising there, to about 8 inches.
Neighbors, who had dealt with flooding before, brought their portable pumps to Wills' home to help remove the water, but much damage was done to Wills' extensive record collection, recording studio and furniture.
Wills had e-mailed city officials two times earlier this year when waters had collected in the neighborhood but received no response. Tuesday, he retrieved a folder from his flooded basement containing documents and notes relating to his earlier battles.
"Anytime we get a downpour, this is what happens," Laura Lane resident Kendra Paul said, standing near an area of the street where water refused to descend into the storm sewers and was about a foot or more deep, roughly three hours after the rainfall had ended.
Councilman Jim Woofter came through the neighborhood with camera in hand, taking pictures of the flooding.
Woofter, who's been on council six years, said the rainfall that hit Cortland on Tuesday apparently exceeded the amount that the storm system could handle, but he believes it is because the amount of rainfall that fell was extraordinary.
Sewers are built to handle 1 inch of rain in an hour, Woofter said, adding that he estimates three times that much fell in 30 minutes.
A settlement agreement reached by the city of Cortland with WAE Corp., the developer of the neighborhood, in 2005 called for WAE to install 175 feet of 12-inch storm pipe and take other measures. The agreement said that once those things were complete, the WAE Corp. no longer was responsible for flooding problems on Laura Lane.
Similar flooding was seen on Thornhill Drive, a short distance north of Laura, but it wasn't clear whether any basement flooding had occurred there.