Families clash after murder case hearing || VIDEO
Brawl at Court Hearing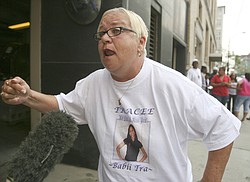 Video
YOUNGSTOWN
A Youngstown man is being held on $1.25 million bond for charges of murder and attempted murder and remains in the Mahoning County Jail.
He was joined in jail by a relative involved in a post-arraignment melee.
Melvin S. Shaw II, 18, of Idlewood Avenue, was arraigned by video Wednesday morning in Youngstown Municipal Court for the shooting death of Tracee Banks, 17, and attempted murder of Ohio State University football recruit Jamel Turner, 18.
His bond is $500,000 for the attempted murder charge and $750,000 for the murder charge.
Following the arraignment, an altercation broke out between the families of the victim and the suspect outside of the courtroom.
Wade Shaw, 35, of Youngstown, was charged with disorderly conduct, assault and resisting arrest and is currently at Mahoning County Jail. Shaw was outside a Youngstown Municipal courtroom following the video arraignment of Melvin Shaw.
Wade Shaw was swinging wildly and a Youngstown police officer told him to stop twice, according to a police report. When the officer tried to make an arrest, he was pushed away during a melees. The officer then tased Wade Shaw in the torso.
Wade Shaw was taken to St. Elizabeth's Hospital to have the taser barb removed and then returned to the Youngstown Police Department where he was booked and transported to jail.