Central Square crowd cheers Tour of Valley cyclists
By ELISE McKEOWN SKOLNICK
news@vindy.com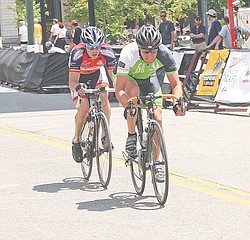 Photo
BIKE RACE - The leaders draft down the straight away downtown Youngstown Sunday afternoon. - Special to The Vindicator/Nick Mays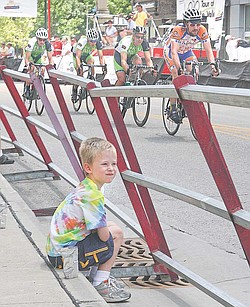 Photo
Jason Sweder from Boardman takes in The Tour of the Valley bicycling criterium in downtown Youngstown on Sunday afternoon. He was oneof many spectators who visited the downtown area to take in the annual cycling- stage event. The tour, which began Friday, was part of The Biggest Weekend of Summer celebration.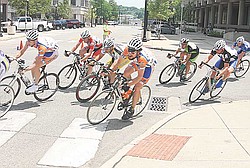 Photo
BIKE RACE - Racers taking a turn at 30 mph downtown Youngstown Sunday afternoon. - Special to The Vindicator/Nick Mays
YOUNGSTOWN
Downtown on a Sunday typically is quiet.
That wasn't the case when cyclists and spectators filled Central Square at Sunday's criterium, a one-mile lap repeated 20 to 25 times with fast turns and quick sprints.
A loudspeaker blared, announcing the number of laps left in each event. Bike tires whistled on the pavement as the cyclists flew by in packs. Spectators lined the street at the start/finish line and cheered on their favorite. Restaurants opened early.
Events such as the Tour of the Valley cycling race bring new people downtown and into businesses, said Miles Harris, kitchen manager for the Lemon Grove.
"A lot of new faces, nice people, a lot of people that haven't been here before," he said. "It increases foot traffic."
The Lemon Grove opened at
7:30 a.m., three hours early.
"If we have special events in town, we always try to open up a couple hours early to make sure the people can get what they want," Harris said.
Debbie Vogt, of Salem, attended the event to watch her husband race.
She's heard about revitalization projects in Youngstown, she said, and the race gave her a chance to see the progress firsthand.
"And, actually, it's beautiful," Vogt said. "I'm really impressed with it right now.
I see they're trying to domore and more things with Youngstown, so it's a good thing for this community."
She decided to stay downtown after the race.
"We're going to stay for lunch and check out the places, even the little ice-cream vending cart down there, and have dessert," Vogt said.
Bob McAllister of McAllister's Homemade Ice Cream took the opportunity to set up a small ice- cream cart.
Though McAllister's Stuthers store is open seven days a week, the Boardman Street location is open only Monday through Friday. They brought out their vending cart for the Sunday bike event, however.
"A bunch of little kids got ice cream," said McAllister. "It's fun."
The Tour and other events help him get the word out about his business, but also get the word out that Youngstown has something to offer, he said.
"Because it's building back up," he said. "We've got to forget the steel days. Those are gone. I think it's great what's going on downtown."
Visitors think so, too.
Lori Bole traveled from Cincinnati to watch her husband race. She brought along her kids, Alex, 8, and Taylor, 2.
"We're just here to cheer him on," she said. The family's never been to Youngstown. "We just got here this morning, but it looks like a cute little town," she said.
She planned to check out some of the businesses that were open.
"I think we'll stay for a little while after the race today, before we head back," Bole said.