All systems go for launch of Cruze this week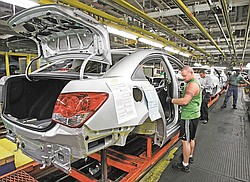 ASSOCIATED PRESS

Photo
In this photo made June 15, 2010, Matthew Mines assembles a test model of the new Chevrolet Cruze at General Motors' Lordstown Assembly Plant in Lordstown, Ohio. (AP Photo/Mark Duncan)
Last Lordstown Cobalt

Video
The end of the line has come for the Chevy Cobalt at GM Lordstown.
By GRACE WYLER
LORDSTOWN
Production of the highly anticipated Chevrolet Cruze begins today when the General Motors plant here comes back online after a two-week hiatus.
The plant's 1,200 new workers will join the team today, as the plant starts full production with three shifts, a long- awaited ramping up for GM's new compact car.
The plant will start Cruze production with three 10-hour shifts running four days a week, said Jim Graham, president of United Auto Workers Local 1112, which represents the workers at the Lordstown assembly plant.
"There is a lot of excitement, a lot of anticipation," Graham said. "We want to make sure this thing gets off on the right foot."
Cruze production will begin slowly to ensure an easy launch, Graham said. The first car is expected to roll off the line sometime Tuesday or Wednesday.
"We are going to ramp up very slowly in order for everyone to feel comfortable," he said.
The Cruze will replace the Chevrolet Cobalt, also produced at the Lordstown complex. After a six-year run, the last Cobalt ran off the line June 25.
Though the Cobalt suffered some initial problems during its launch, plant management and union officials expect the launch of the Cruze to go off without any major glitches.
"If you give us a well-engineered car, we can produce the best car that there is," Graham said. "We have a great work force and everything we need to produce a great car."
After the economic woes of 2008 and 2009, the Lordstown community — and the entire Mahoning Valley — has been eagerly awaiting the arrival of the Cruze and the addition of the third shift, said Lordstown Mayor Michael Chaffee.
"We are all very excited about this car," he said.
GM announced last month the Cruze will start at $16,995 and will offer four models: the base model Cruze LS, the Cruze LT, the Cruze ECO, and the Cruze LTZ.