Library hosts learn-to-read event for children

Photo
Neighbors | Shaiyla Hakeem .Cortland's Ashley Solis makes her name tag at the Austintown's Library's reading activity "Gotta Move Story Time." Each child was required to make a tag.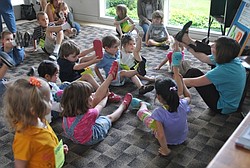 Photo
Neighbors | Shaiyla Hakeem .Children's librarian Hayley Mcewing (right) leads kids in a stretching activity. The activity helps with coordination and flexibility.
School is out and kids gotta move — to the library, that is.
Austintown Library held its regular Gotta Move Story Time program June 10 for 2 to 5-year-olds. Kids participated in fun activities geared toward developing good reading skills.
Each child was required to make a name tag prior to the start of the activities which provided practice in writing their names. The group began the program by singing "The More We Get Together" and then turned its focus to the letter "B."
Children's Librarian Hayley Mcewing showed the kids what the letter looked like and led them in drawing the letter in the air.
"One long line down and two humps to the right," she said.
They also pronounced the sound of the letter while performing physical activities. This allowed the kids to have fun as they learned.
The children worked on sounding out syllables by clapping out the sounds to each other's names. Practice in counting was done through several interactive stories the librarian read.
The next Gotta Move Story Time will be held July 8.