YSU welcomes new president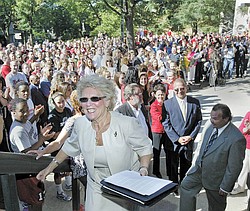 Photo
Cynthia E. Anderson, Youngstown State University's new president, leads the way up the steps of Tod Hall after inviting about 500 well-wishers inside for refreshments as she began her first day on the job Thursday. The crowd gathered in front of Tod Hall at 9 a.m. to greet her.
By HAROLD GWIN
YOUNGSTOWN
Youngstown State University Trustee Harry Meshel stood at the steps of Tod Hall with a lighted candle, awaiting the arrival of Cynthia E. Anderson, the university's seventh president.
The candle signifies "a new beginning, a new day," Meshel said, likening it to "a religious experience."
Meshel, a strong Anderson supporter, was one of about 500 people who gathered on the plaza at 9 a.m. Thursday to welcome Anderson to her first day on the job.
She was actually on campus a couple of hours earlier, having a breakfast meeting with members of her administration in Kilcawley Center, and she walked to the outdoor reception escorted by YSU mascots Pete and Penny Penguin to a tune played by the YSU band.
Anderson thanked those who turned out to greet her and praised them for what they've done for the university. But, she also challenged them to do more.
There is a need to focus even more on student success, she said, not only because state funding will now depend on course completions and graduations, but because those who come to the university chose YSU.
"We have an obligation to them," she said, noting that includes not only academic courses appropriate for the 21st century, but various support services such as mentoring and advising.
She called on the campus community to pull together.
"Everything that we will accomplish, we accomplish together," she said. "Together, there is absolutely nothing we can't accomplish."
"The university must also continue to be part of a collaborative community effort in terms of local economic development and more, Anderson said. Those who are here love the Valley, and the effort must be made to make it a place where YSU graduates want to live, work and raise their families, she said.
"Today absolutely does begin a new era," she said.
Anderson is no stranger to campus.
She holds an undergraduate degree from YSU and has been employed by the university since 1979, serving as vice president for student affairs since 1995.