Licensing law vexes downtown vendor
By DAVID SKOLNICK
YOUNGSTOWN
Door-to-door salespeople working in Youngstown and those setting up shop outside of buildings will need a city-issued license and ID badge as well as a background check to do business.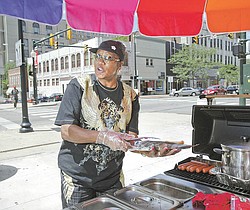 Photo
Blanche Silva, who runs a hot-dog stand in downtown Youngstown, would be prohibited from operating the business when a new law goes into effect Sept. 13. Here she operates at West Federal and North Phelps streets.
The law, which goes into effect Sept. 13, isn't sitting well with one outdoor vendor.
Blanche Silva, who owns a portable hot-dog stand downtown on West Federal Street, near the vacant Wick Building, says she thinks the new law is "unfair."
Under the law, she is prohibited from operating a business on public sidewalks.
Running the stand is "something I enjoy doing," said Silva, who's been downtown since April and has a mobile food license from the city's health department. "It gives me something to do. I like to talk to people. The [city is] trying to put me out of business. I'm not going to let that happen because I'm not doing anything wrong."
The focus of the change is on those setting up shop with merchandise on vacant lots, and not Silva's business, said Councilman John R. Swierz, who sponsored the legislation.
"There might be some tweaking of the law" so Silva can stay in business, said Swierz, D-7th.
City council approved the changes that require licensing and background checks because of problems with fly-by-night operations and salespeople, some who are ripping off residents, he said.
"In this day and age, you don't know who's coming to your door," Swierz said. "We expect this will reduce the number of people who are selling items illegally and trying to pull scams. People are going into the neighborhoods at night with no restrictions and knocking on people's doors at all hours."
The door-to-door sales law restricts such activity to be done between the hours of 9 a.m. and 5 p.m.
The law, largely based on the one in Akron, doesn't apply to religious, political, youth and school organizations, Swierz said.
Those wanting a license to go door-to-door and to sell outside of buildings must pay $150 per license annually or $50 a month.
"The picture ID will provide comfort to residents concerned about the legitimacy of those selling in the neighborhoods," Swierz said.
The licenses along with a city-issued identification card that includes the salesperson's picture will be available later this month at the city's police department on North Phelps Street, said Police Chief Jimmy Hughes.
Also, each person getting a license will undergo a basic background check, with convicted felons and those convicted of sex crimes, child molestation, theft and similar offenses denied approval, Hughes said.
"I'm not expecting this to be a real burden for the police department," he said of the licensing and background checks.
Those found to be operating without a license or going door-to-door during prohibited times could be charged with a third-degree misdemeanor, and subsequent violations could result in first-degree misdemeanor charges. The maximum penalty for a third-degree misdemeanor conviction is 60 days in jail and a $500 fine. The maximum for first-degree is six months in jail and a $1,000 fine.