---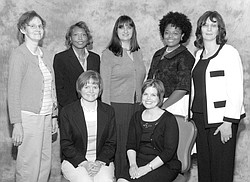 Photo
The Junior League of Youngstown has voted to accept new Active Members. Seven of the new members are, front row, from left to right, Jennifer Soloman and Meghan Buck; and in the back row are Roberta Yash, Dorris Bullock, Katie Libecco, Carmella Williams and Lois Koval.
YOUNGSTOWN
At its annual dinner, the Junior League of Youngstown voted to add 10 members to its ranks.
Members of the 2009-2010 Provisional Class are eager to begin promoting volunteerism throughout the Mahoning Valley.
The new members are Meghan Buck of Struthers, Doris Bullock of Austintown, Lisa Damore of Youngstown, Amanda Frost of Columbiana, Lois Koval of Boardman, Katie Libecco of Youngstown, Jennifer Soloman of Cortland, Carmella Williams of Hubbard, Roberta Yash of Austintown and Deborah Zitella of Boardman.
This year's class challenged Valley children to make healthful lifestyle choices with their "Kids in the Kitchen" project, endorsed and promoted by the Association of Junior Leagues International. AJLI has implemented a global approach to help children and their families choose healthful foods and activities to curb the escalating rates of childhood obesity.
Fran Curd, Provisional chairwoman, said: "The 2009-2010 class did an outstanding job in developing and implementing the Kids Health Fair. They worked together as a team, and their dedication and commitment to their project resulted in an amazing event. JLY has gained 10 professional women who, with their talents and skills, will help promote the mission of the organization."
To be eligible for membership, a candidate must be recommended by a member and spend one year planning and executing a provisional project. The JLY is an organization of women committed to promoting volunteerism, developing the potential of women and improving the Mahoning Valley through the effective action and leadership of trained volunteers.
At the annual meeting, 10 past JLY presidents were also honored: Lynee Aiad-Toss of Poland (2007-2008); Patricia Green of Hubbard (2005-2006); Suzyn Schwebel Epstein of Hubbard, (2004-2005); Janice Tattrie Fagert of Youngstown (2000-2001); Tracy Prizant of Poland (1999-2000); Kathy Myers of McDonald (1997-1998); Karen Wilson of Poland (1987-1989); Suzanne Fleming of Youngstown (1983-1985); Betsy Slagle of Canfield (1979-1981); and Nancy Morris of Youngstown (1965-1967). The 80th anniversary dinner was May 11 at Tippecanoe Country Club.
Frances Lynn Into of Youngstown was honored for attaining emeritus status. For this achievement, a member must reach age 80 or complete 50 years of membership in JLY.
For more information on the league and its community projects, call the office at 330-743-3200 or e-mail info@jlyoungstown.org.