Three years later, no arrests in killings of 4
The families are looking for help from the community for answers.
By JOHN W. GOODWIN JR.
VINDICATOR CRIME REPORTER
Youngstown Homicide Three Years Later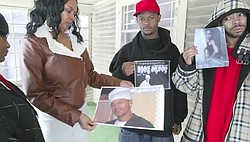 Video
Three years ago 4 people were shot to death in a house on West Evergreen in Youngstown. So far no arrests have been made.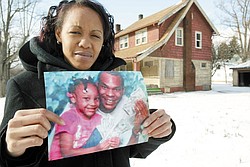 Photo
SOMBER REMINDER: It has been three years since the shooting deaths of four people at a South Side home. Police have made no arrests, and family members of the victims still have no answers. Dasha Burley, the mother of victim Anthony Crockett, holds a picture of Crockett and his daughter, Antanasia Crockett. In the background is the vacant West Evergreen Avenue house where the shootings occurred.

Photo
ASKING FOR HELP: Relatives of murder victims are asking the public to provide police with information leading to the arrest of the killers. The relatives are standing in front of the Evergreen Avenue home where the shootings took place. From left, De'Andre Parker, holding a picture of Danielle Parker, Dwayne Boone, LaShanda Boone and Shanell Boone, holding a picture of Marvin Boone. Danielle Parker, Marvin Boone, Anthony Crockett and Christopher Howard were killed.
LaShanda Boone looks at the house at 548 W. Evergreen Ave. in Youngstown with confusion, sadness, regret and a touch of anger.
It is a mixture of emotions brought on by the lack of information concerning the murder of her younger brother and three other people inside the house three years ago today.
The house is empty. Wood covers broken windows and unsecured doors.
The victims — Anthony M. Crockett, 23; Christopher D. Howard, 24; Marvin E. Boone, 19; and Danielle Parker, 22 — had all been found in an upstairs bedroom shot in the head and body.
Days after the shooting, police believed the murders were the result of an ongoing feud, but to date no arrests have been made.
Family members believe the case has gone cold.
"I have not talked to the detectives handling the case since 2007," Boone said. "Nobody has said anything, made any phone calls or anything. This has basically been swept under the rug, and that's not fair. There are still questions to be asked."
Capt. Rod Foley, chief of detectives, said detectives still consider the case open, however, and they are actively pursuing leads. He said calls concerning the murders still come in occasionally producing new information.
Foley said police welcome any additional information from the public. Call the department at (330) 747-7911. Any information received will be directed to Detective Daryl Martin at the police department, he added.
Boone said the family has heard myriad unofficial reasons for the murders being discussed by members of the community, but nothing concrete or given credence by police.
She worries that those responsible for the shootings live close by — possibly interacting with the victims' families on a daily basis.
Brenda Parker said it has been a three-year wait to apprehend those responsible, and she asked how they could be so cruel.
Danielle Parker was found in a corner of the house curled in a fetal position.
Parker said there is not a day that goes by that she still does not think about her daughter and the circumstances surrounding her death. For mental stability, however, she said she has "to pretend these people don't exist."
Parker said she is left feeling as if no one cares about the death of her child.
"I am still sad. I miss her. I still cry, and it's discouraging that they have not found anyone. I just feel like they don't care. That may not be true, but that's how I feel," she said.
Family members say they are watching the children of those killed grow older with no answers to questions about their parents' deaths. Parker's granddaughter is now 8.
LaShanda Boone said her brother has a child he never had the opportunity to meet. A woman he had been dating found out she was pregnant mere weeks after the murders.
LaVette Boone, mother of Marvin Boone, wants answers that she believes the public can provide. She is begging those in the community who know something about the murders to come forward.
"I do not come bitter or angry. I forgive the perpetrators, but it has been three years of basically silence concerning this matter. We are not silent on the matter, just patient. This could have been your son, daughter, mother or father," she said.
LaShanda Boone said any murder, regardless of the person involved, should be given top priority by police and the community. That, she said, is the only way to decrease the city's murder rate.
"If more murders were treated like this situation with the elderly lady [Angeline Fimognari] just recently murdered, there would be less murders," she said.
jgoodwin@vindy.com