Football runs in Congemi family
The former Ohio State football player is celebrating his 90th birthday.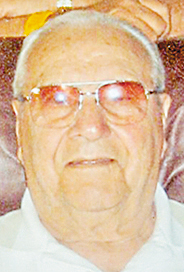 Photo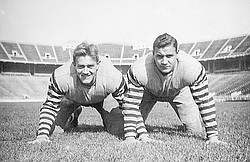 Photo
John "Ace" Congemi is on the right with Frank Terlecky in their defensive stance at Ohio State in 1938.
By JOHN KOVACH
VINDICATOR SPORTS STAFF
BOARDMAN — Two of the best gifts that John "Ace" Congemi will enjoy on his 90th birthday celebration this week will be having his family nearby and all of his many memories with him, including those of his football-playing days.
Congemi, a former East High, Ohio State and Youngstown College football player who turned 90 last Wednesday, said that his fondest football memory as an East player for three years (1935-36-37) occurred in a game as a senior in 1937.
And that the occurrence had the ambiguous distinction of making first-year coach Dick Barrett both happy and unhappy.
"In one of the plays against Ursuline, I was back in punt formation in the end zone and, instead of kicking, I ran 107 yards for a TD," recalled Congemi of the rare achievement as a senior halfback and punter. "I don't know why I ran. I don't know if it was because they were rushing me. I just felt that I wanted to run. [Barrett] gave me [heck] but with a smile on his face. I was pretty fast."
Congemi, who shared quarterback duties in 1935 with Sam Laskin before becoming a regular halfback his next two years, said that his best season at East was as a senior in 1937 when the team's only loss was to Chaney in the season final.
"We lost 6-0 on Thanksgiving Day at South High. Frank Sinkwich caught the TD pass from Frank Terlecky," Congemi said. "Only two TDs were scored against us that season on a blocked kick and [the] pass."
Sinkwich went on to play at Georgia with another Chaney star, George Poschner, and won the Heisman Award in 1942.
Poschner entered the U.S. Army and was severely injured in the Battle of the Bulge in the winter of 1945, losing both legs and several fingers. He won the Purple Heart, Bronze Star and Distinguished Service Cross.
Congemi said that two of the Ursuline players on that 1937 team that he remembers were Tony "Bull" Rosselli and Roy Cestary, who went on to play at Youngstown and Columbia, respectively.
"Bull" was the brother of Dom Rosselli, the former Youngstown State basketball coach.
Congemi said that the East offense used the "box formation' and ran the "Notre Dame Shift," and that he had "some nice runs" as a halfback but rarely ran the ball as a quarterback.
"The quarterback mostly did the blocking and called the plays. We passed rarely. We ran more than we passed," said Congemi, also remembering the strong and colorful rivalries between schools.
"Every team was a rival. The city schools were all tough. Campbell was one of our toughest rivalries. John Knapick coached Campbell."
Barrett served as an assistant coach at Campbell under Knapick in 1934 before shifting to East as coach starting in 1935.
Congemi and Chaney's Terlecky won football scholarships to Ohio State in 1938, but stayed for only pre-season practice and the annual freshman-sophomore game that followed before the season began.
"We didn't even get into [that] game and we said, 'That's terrible,' and we just left school," said Congemi, who then enrolled at Youngstown College to play on the school's second football team under coach Dwight "Dike" Beede.
"I played in 1939 and 1940, with Carmen Julius, Walter Malys and Sloko Gill," who all were from Campbell.
"When I went to Youngstown College, the Campbell boys were all my buddies. I went to school two years, dropped out, went to work, got married, had two kids and got drafted [into the Air Force]."
Gill later became an assistant at Youngstown under Beede, and also coached at Campbell along with Julius and Malys.
Congemi married his high school sweetheart, Helen, and the couple was married 67 years before she died last January.
Congemi served two years in the U.S. Air Force from 1944-46, went to radar school and then became a physical training instructor before continuing his football career in the service.
"I became a physical training instructor because they didn't have the radar ready to be installed into the big bombers. Had they been installed, I would have become an operator," said Congemi, who never went overseas and saw combat, but instead was based in Lake Charles, La., where he played for the base football team
Congemi worked at General Fireproofing for 40 years, including in the shipping department, before retiring in 1982.
He and Helen had three children: sons John "Ace" Jr. and Tony and daughter Genevieve (Vermillion), all Ursuline graduates. John Jr. and Tony played football for Ursuline, and then went on to play for Heidelberg and YSU.
Tony still teaches at Mooney; while John is a retired high school principal in the Fort Lauderdale, Fla., area.
Tony said there also is some YSU history attached to him and his son, Dean Congemi.
"I was the first son of a player to play at Youngstown State for Dike, and [my son] Dean Congemi was the first grandson to play at Youngstown State under Jim Tressel," exaplained Tony.
There also is a third-generation John "Ace" Congemi III of Weston, Fla.
"My grandson, John's son, the third John 'Ace,' played football as a quarterback for St. Thomas Aquinas High in Ft. Lauderdale, Pitt and the Canadian Football League, and now is an ESPN sports announcer and color commentator for the Big East football games," explained Congemi.
And there also is a fourth-generation, great-grandson John Congemi, 14, who is John III's son. However, he does not use the nickname "Ace."
"I don't know why he doesn't go by "Ace," said his great-grandfather," who still remembers how he got his nickname.
"When I was a little kid, I was a good player, so they called me "Ace."
kovach@vindy.com