East defeats Irish, 50-45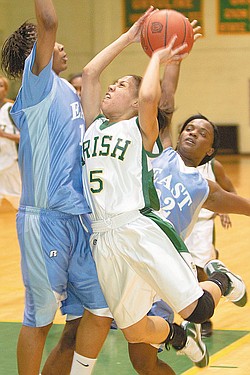 Photo
PANTHERS HOLD OFF IRISH: Ursuline's Aurielle Irizzary (5) takes a shot but is fouled while defended by East's Briana Dawson (10) and Lesa Monet Oliver (22) during the second quarter of Thursday's game at Ursuline High School. Irizzary put up 16 points, but the Irish fell to the Panthers, 50-45.
Chelsea Bennett and Briana Dawson stepped up for the Panthers.
By JOHN KOVACH
VINDICATOR SPORTS STAFF
YOUNGSTOWN — Two talented East High girls basketball players who have been inconsistent on the court this year took important steps toward reaching their full potential against rival Ursuline Thursday night at the Irish gym.
Chelsea Bennett scored 15 points, including four of the Panthers' final five, while Briana Dawson added 13 with three steals to lead East to a 50-45 win over Ursuline in a close game throughout that went down to the wire.
With the score deadlocked at 45-45, Bennett tallied four of the Panthers' final five points to sew up the victory.
"They both have a lot more growing to do [as players]. They haven't reached their full potential," said East (10-6) coach Tanisha Frankin in discussing Bennett and Dawson.
"Bennett has to be more consistent.
"She hasn't reached her full potential. She is a gifted athlete and she has to show it. "Dawson is a tremendous athlete and she hasn't reached her full potential."
Lesa Oliver also sparked the Panthers with a fine all-around performance of 11 points, eight rebounds and three steals.
Aurielle Irizzary scored 16 points, including three 3-point goals, to spark Ursuline while Courtney Powell also was sharp overall with 11 points, nine rebounds and four blocks.
Ja'Niece Whitehead contributed eight points, half of them in the final period, and added three steals, while Shami Harrison had four assists to aid the Irish.
However, Ursuline was plagued by turnovers with 29 to only 19 for East, but the Irish did manage to hold a 31-30 rebounding edge.
East could have sealed the game earlier in the final quarter, but had trouble making its free throws, finishing with only 16-for-33 for the game.
"We missed a lot of key free throws down the stretch. But despite that we kept our heads into the game," said Franklin, noting that her offense was able to get the ball inside near the hoop.
"We wanted to penetrate. We penetrated and kicked the ball out to our shooters and got the ball inside."
Franklin also like her team's aggressiveness throughout the contest.
"Our aggressiveness set the tone in the game," she said.
Dawson got off to a strong start with six points in the first quarter to help East take a 10-7 lead, and the Panthers got scoring from five different players in the second period to maintain a 21-19 halftime lead.
But Irizzary helped to keep Ursuline in the game in the third quarter with six points, including a 3-point goal that pulled the Irish within 34-29 entering the final period.
Irizzary continued her strong offensive play with eight points, including a pair of 3-point goals, the last one pulling Ursuline into a 45-45 tie.
But Bennett responded with a clutch goal with 37.4 seconds left, followed by Dawson's free throw with 11.4 seconds remaining .
Bennett's two foul shots near the buzzer finished off the Irish.
kovach@vindy.com