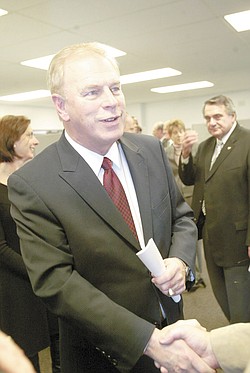 Photo
Gov. Ted Strickland shakes hands with workers at M-7 Technologies in Youngstown. The governor visited the plant Wednesday to highlight its job-creation efforts and use of job-training programs.
A local business owner tells Gov. Ted Strickland he plans to add 'a lot more jobs.'
By DON SHILLING
VINDICATOR BUSINESS EDITOR
YOUNGSTOWN — Gov. Ted Strickland visited M-7 Technologies on Wednesday and didn't mind that company president Mike Garvey wasn't there.
In fact, the governor was pleased when he learned that Garvey was in Utah talking to venture-capital firms about plans to create a clean-technology incubator next to his company in the Ohio Works Industrial Park.
Strickland spoke with Garvey by phone and then said the company president told him, "Governor, we're going to add a lot more jobs."
Strickland visited M-7 the day after he delivered his State of the State address to highlight Ohio's job-creation programs. He said people such as Garvey deserved to be recognized.
"Entrepreneurs willing to take a risk ought to be encouraged and acknowledged," Strickland said.
M-7, which employs 20, builds and repairs industrial machinery, but it also has expanded into high-tech, three-dimensional imaging. It has laser scanners that can create computer models of spaces by bouncing laser beams off surfaces.
A crew from M-7 just scanned a facility at a nuclear plant in Shippingport, Pa., in advance of some maintenance work being done there.
Garvey announced last week that he and area native Jack Scott, president of AST2, have pledged $1 million toward the creation of Ohio Clean Technologies Group, which would be housed next to M-7. The incubator would have access to investors, who would put money into companies that are ready to bring "green technology" products to market.
M-7 officials said Garvey intends to break ground on the building in July.
Strickland said he wants Ohioans to be more aware of what is happening in the state to promote the fuel cell, solar and wind industries. In his State of the State address, he announced he wants to create a new Mahoning County turnpike plaza that is outfitted with wind and solar power.
Strickland said he also visited M-7 because it has successfully used job-training programs offered by the state's One-Stop system.
Among the three employees who have been part of the program is Jeff Foster, operation manager for M-7.
He lost his job as machining superintendent when Sekely Industries closed its tool and die operation in Salem in 2007.
Bert Cene, director of the Mahoning Columbiana Training Association, said Foster and the two other employees participated in an on-the-job training program that pays for 50 percent of their wages. The MCTA operates the One-Stop agencies in Mahoning and Columbiana counties.
Cene said the program encourages companies to hire displaced workers who need training by paying part of their wages. About 20 people a year are placed with employers in the two counties through the program.
Foster said he had a lot to learn in coming to M-7. He understood machining but as operation manager he had to understand customer relations, shipping and receiving, welding and assembly.
shilling@vindy.com