Impact of recession on the Valley will linger in 2010, economist says
By Don Shilling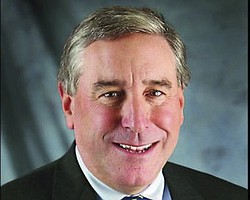 Photo
Companies are hesitant to expand, a chamber official said.
BOARDMAN — The recession is over, but restoring the jobs that were lost will take time, an economist said.
The nation's number of jobs won't return to pre-recession levels until December 2012, predicted Ned Hill, dean of the college of urban affairs at Cleveland State University.
"The recession ended sometime between June and August of this past summer. It just doesn't feel like it," Hill said Wednesday at the Youngstown/Warren Regional Chamber's economic forecast breakfast at Mr. Anthony's.
The recession, which began in November 2007, hasn't been formally declared over because it takes some time for economic numbers to come in. Recessions are declared over when the nation's gross domestic product, or the value of all goods and services, begins to rise.
Hill, who has a doctorate in economics from Massachusetts Institute of Technology, said the recessions in 1990 and 2001 each lasted nine months. Restoring lost jobs took 32 months from the start of the recession in 1990 and 48 months in the 2001, he said.
Hill predicted the economy will need 60 months to restore the jobs lost from the recession that began in 2007. That recession lasted about 21 months.
Many people are still in tough situations because companies are reluctant to bring back workers, he said. The nation's unemployment rate is over 10 percent, and it would be higher but many people have given up on their job searches and dropped out of the labor force, he said.
Walter Good, chamber vice president for economic development, said local companies are reporting an increase in orders, but they are being cautious about adding workers.
"There still is a nervousness, a hesitancy to make decisions on big projects," he said.
Still, the chamber last year assisted on 20 local projects that created 1,052 jobs.
Good said the chamber has 25 projects with 1,800 jobs in its pipeline that have a "good chance" of being completed in 2010.
The value of those projects is $1.08 billion, although nearly $1 billion of that is V&M Star's proposed expansion in Youngstown.
Despite the economy being on the rise, there is a danger of a "second dip" in the recession, Hill said.
To avoid a relapse, it's critical for the federal government to approve a second round of stimulus spending, he said.
State and local governments are surviving on stimulus money from the federal government, he said. If state and local governments are forced to deal with their deficits, there will be massive layoffs, which could create another recession, he said.
Federal officials are expressing concern about growing federal deficits of late, but those concerns should be put aside while the economy is weak, he said.
The proper time for dealing with federal deficits is when the economy is doing well, he said. The real problem with the federal budget is that deficits were allowed to grow when the economy was booming during the last decade, he said.
"In two years, we're going to have to lock the president and Congress in a barn somewhere, and they will have to agree to raise our taxes," he said.
shilling@vindy.com