We must all stand against this violence
Police said even people who usually won't cooperate with police are expressing disdain for the killing.
By ELISE FRANCO
and JOHN W. GOODWIN JR.
Vindicator staff writers
St. Dominic's Shooting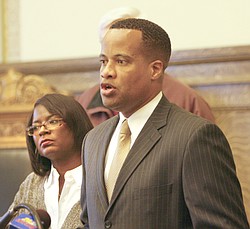 Video
Crime Stoppers offer a $10,000 reward
YOUNGSTOWN — Those who live near St. Dominic Church on the city's South Side said senseless crime won't drive them away from their homes.
Less than one week after the Saturday morning shooting death of 80-year-old Angeline Fimognari in the parking lot of St. Dom's, 77 E. Lucius Ave., longtime residents are speaking out.
Maggy Lorenzi, 58, of Midlothian Boulevard, said she's heartbroken over the crime and over what's happened to the neighborhood she's lived in for 50 years.
"Every murder, every violent death in this city is a tragedy," she said. "But when it's an innocent, whether it's a child in a drive-by or this sweet little lady, then it's multiplied."
Lorenzi, who was involved with the now-defunct Southern Block Watch group, said the quality of the neighborhood began to decline about 15 years ago when St. Dominic School closed.
"That was the anchor for the neighborhood," she said. "After it closed, the people who were homeowners down in that area started selling properties and they became all rentals. It was a slow downward spiral after that."
Brenda Maddox, who moved to the South Side 21 years ago, said she just purchased a home near the old school. Maddox said after Fimognari's murder she doesn't even feel safe living near a church.
"I'm petrified now, and I've been going to [St. Dom's] forever," she said. "It has gotten terrible."
Maddox said when she moved to the area all the neighbors knew and looked out for each other and the neighborhood children never caused any problems.
"This was a good place to live, and I didn't have to be afraid to go outside," she said. "Now I am, especially when I am hearing shots going on outside."
One resident, who declined to give her name for safety reasons, said she's seen significant changes in the more than 30 years she's lived in Youngstown.
The Avondale Avenue resident said when her children were growing up they were safe camping out in the front yard and riding their bikes after dark.
"We weren't afraid to talk to people on the street and walk our dogs at night," she said.
The 57-year-old said she's angry that has been taken away because of violent crime and gang members.
"That's what makes me mad," she said. "You have to be afraid of kids."
Another resident who declined to give her name for safety reasons said she has lived on the South Side since birth and can't compare the neighborhood today to what it used to be.
"There's absolutely no comparison," the 76-year-old said. "It's like day and night."
She said she's more cautious now than she used to be, but she won't be forced from her home.
"I'm not afraid," she said. "I used prudence in everything I do though. I have to be extra careful now."
Despite the violence, Lorenzi said she has no plans to move.
"I'm cautious, but nobody's going to make me scared," she said.
Lorenzi said in order to take back the neighborhood and city, residents, public officials and law enforcement have to step up and take responsibility.
"The area has become such that the people living here just don't care," she said. "And until the quality and strength of our police department and the children in this city become the top priority Youngstown will never move forward."
One way police are hoping to draw in help from the community is by offering a reward of up to $10,000 for information leading to the arrest and conviction of the person responsible for Fimognari's death. Mayor Jay Williams said the money will come from public and private donations.
Police reports included a general description from a concerned citizen in the area at the time of the shooting. The supplementary report describes a black male just more than 6 feet tall, wearing blue jeans and a dark jacket, walking away from the church at the time of the incident.
The concerned citizen said the man did not appear menacing, but he wanted to make police aware of the man's presence.
Capt. Rod Foley, chief of the detectives division, said similar tips have been coming in from any- and everyone who thinks they can assist in the investigation. He said police are grateful for each of those tips.
"We are getting help from the community. They have given us more calls and some names that we are comparing to our records. They are giving us anything they think can help. We are not highly suspicious of those people but they are people of interest we can talk to," Foley added.
Even people of interest questioned by police are expressing a certain disdain for the actions of the individual who shot Fimognari, the captain said.
He said the department has spoken with individuals not likely to work with law enforcement and they too have said they want to see the person caught and are standing behind police in that effort.
efranco@vindy.com
jgoodwin@vindy.com