YSU finalist: Students should be priority
By Harold Gwin
ysu president
The university needs to start recruiting earlier than sixth grade, and make YSU 'the' university of choice.
YOUNGSTOWN — Cynthia Anderson made no bones about where her priorities will lie if she becomes Youngstown State University's seventh president.
"Students, students and students," she told an audience of about 150 people who crowded into the YSU Board of Trustees' meeting room in Tod Hall on Tuesday for an open public forum.
"Students are the business of Youngstown State University. That's all there is," Anderson said.
Everything the university does is tied to the students, she said, adding that the university needs to begin recruiting them earlier than the sixth or seventh grade as is done now. The university needs to make them see YSU "as 'the' university of choice, not 'a' university of choice," she said.
Anderson, current vice president for student affairs at YSU, is one of four finalists for the post of president to succeed David C. Sweet, who retires June 30. She has a history with the university that goes back about 40 years, first as a student, and later as an employee for the last 30 years.
"From the time I got here [as an employee], I always believed I was employed at the greatest university in the country," she said.
YSU has a beautiful campus and more building and refurbishing is under way, but the university needs to begin spending its resources internally, Anderson said.
The university community knows its problems and challenges and how to handle them. Now, support is needed from the top to do things right, she said.
The university needs to deal with students on a one-to-one basis and encourage early successes that will make them want to continue their education, she said, suggesting that might involve moving up semester registration deadlines by one or even two months to give new students time to be prepared for courses. Right now, YSU allows students to register right up to the first week of classes, and late registrants can be set up for failure because they can't always get into the courses they should and get put into other classes they may not be able to handle, she said.
YSU has implemented various student services to assist and retain students, and, with the new state funding formula moving to course completion and graduation rather than enrollment as the basis for support, those programs take on added importance, Anderson said.
The university community has repairs to be made in relationships with each other, she said, a reference to labor disputes of the past. Employees have to be valued and the importance of what they do must be recognized, she said. It's time to return to the YSU community being seen as a family, she said. Families fight and disagree, but, in the end, they support each other, she said.
Come July, if appointed, Anderson pledged to have a leadership team and a plan in place so she can "hit the ground running."
Anderson answered a number of questions posed by members of the forum audience. Some of the issues:
UUrban research institution designation: The academic division needs to define what that means for YSU, Anderson said, but it should provide work opportunities for students. It could be the icing on the cake to YSU's reputation as a teaching institution, she said.
UInternational students: "Study abroad programs are essential for our students," she said, pointing out that graduates must compete in a global economy.
International students coming here help build a community of respect for other cultures, she said.
UEastern Gateway Community College impact on YSU: No one really knows the effect the new community college will have on YSU yet, she said, adding that she believes there are enough prospective students in the Mahoning Valley that there won't be competition for students.
YSU should be visiting black and Hispanic churches to seek students, and people are needed to help fill out the Free Application for Federal Student Aid forms to assist students and their families in a somewhat complicated process, she said.
UMending labor relations: Anderson said she will go to YSU's unions and ask what steps they think she needs to take to do that. She has some ideas of her own on the subject but said it will require effort from both sides.
UYSU and community involvement: There does have to be interaction, she said. The business community needs to help us determine what courses are needed, and the community needs to be a part of the educational process, she said.
UHighest priority in terms of problem areas: "We need to get a hold of our budget," Anderson said, explaining that means everyone on campus needs to understand the spending plan and how it works. Some policies and procedures are not as efficient as they should be and need to be updated, she said.
gwin@vindy.com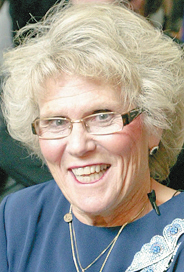 Photo