Shaken parishioners resolve to stay at church; added security planned
By SEAN BARRON
VINDICATOR CORRESPONDENT
YOUNGSTOWN — The slaying of an elderly church member has stoked some fear but much more anger and determination among parishioners.
"It won't scare me off; I'm not going to leave now,"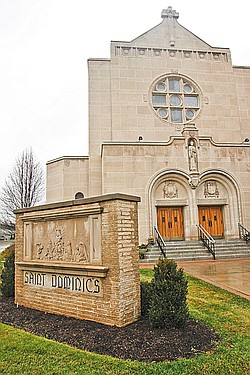 Photo
Saint Dominic's Church, 77 Lucius Ave., in Youngstown.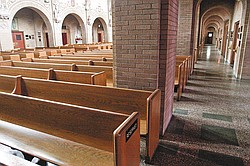 Photo
VICTIM'S PEW: This front corner pew at St. Dominic Church on Lucius Avenue is where Angeline Fimognari sat during Masses.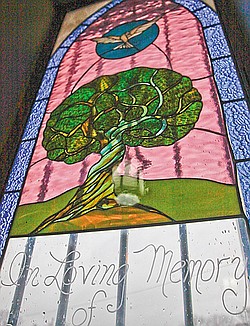 Photo
IN LOVING MEMORY: A stained glass window overlooks the parking lot at the church. Angeline Fimognari was killed in the church parking lot Saturay.
said Diana, a longtime member of St. Dominic's Church, 77 E. Lucius Ave., on the city's South Side.
"No little punk with a gun is going to run me off."
Diana, who didn't want her last name used for fear of reprisal, was referring to the fatal shooting of 80-year-old Angeline Fimognari, who was shot in the head in the church's parking lot shortly after leaving the Catholic church around 8:45 a.m. Saturday. She was found about 30 minutes later in her vehicle with the door open.
The killing remains under investigation, police said.
Diana, who attended the 1 p.m. Mass on Sunday, said she's been coming to St. Dominic's for more than 50 years and intends to continue, adding that she didn't know Fimognari.
Despite the homicide, several hundred attended the afternoon service.
The Rev. Gregory Maturi, pastor, said he didn't know Fimognari well, but that she followed certain routines "like clockwork." Those included attending morning Mass every weekday alone and sitting in the same corner of the sanctuary, he recalled.
The Rev. Mr. Maturi, who was installed last November, said Fimognari nearly always arrived before morning Mass every Monday through Friday and stayed 30 to 45 minutes afterward to pray. She usually was at the church more than three hours daily, he continued.
Fimognari was a cancer survivor and was devoted to St. Padre Pio, a friar who expressed a desire to suffer for others and who was marked in 1918 with the five wounds of Our Lord's Crucifixion, he added.
Mr. Maturi called the crime "a random, senseless act," and noted that the church plans to increase security.
Measures being considered are hiring police, increasing the number of and upgrading surveillance cameras, altering the times for people to leave and the gates to be open, and reviewing security procedures in place, he said, adding that St. Dominic's has cameras all around the premises and security guards patrolling during every service.
Mr. Maturi told the congregation that Fimognari's slaying was the first of its kind in the church's 55-year history and advised parishioners to be cautious and report suspicious activity to security or church personnel.
"Don't be deterred from coming to Mass," Mr. Maturi said.
The killing was Youngstown's fourth homicide of 2010. At this time last year, the city had recorded one homicide.