Photo
FREEZIN' FOR A REASON: Linda Welling and her husband, Dave, of Newton Falls, participate in the Polar Bear Plunge at Mosquito Lake in Bazetta Township. Saturday's event raised more than $25,000 for the Special Olympics.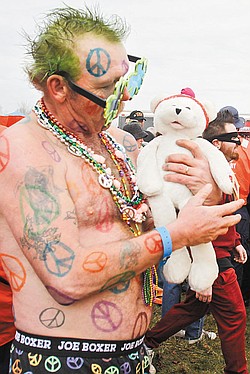 Photo
COLORFUL TRIBUTE: Ken Merwin of Bazetta sported 1960s memorabilia for Saturday's plunge.
2010 Polar Bear Plunge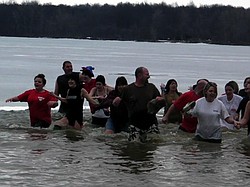 Video
The 2010 Freezin' for a Reason Polar Bear Plunge at Mosquito Lake State Park. Proceeds benefit Ohio Special Olympics.
Midwinter Mosquito Lake dip helps benefit Special Olympics
By JORDAN COHEN
VINDICATOR CORRESPONDENT
BAZETTA — With several hundred friends and spectators to cheer them on, about 150 men and women, many of them in costume, charged into the ice-cold waters of Mosquito Lake on Saturday in the fourth annual Polar Bear Plunge to raise funds for the Special Olympics.
It was the largest turnout in the history of the plunge, which last year attracted just 62 swimmers, according to Paige Ludwig, Special Olympics coordinator.
"We raised [more than] $25,000 dollars, and I'm really happy with the local effort," Ludwig said.
Organizers referred to the event as "Freezin' for a Reason," and the swimmers readily agreed.
"It's exhilarating, and this is the third time I've done it," said Bret Hurst of Warren.
Hurst was a member of a team from the Cortland Moose Lodge, which arrived in a white and brown costume as — what else — a moose. The group dubbed itself "The Moose 'N Dales," a takeoff on the male exotic-dancing group the Chippendales.
They competed in a costume contest before the swim as did many others who wore what would be considered unorthodox swimwear in 40-degree temperatures.
Ken Merwin of Bazetta wore just a swimsuit, but his body was painted in vintage 1960s memorabilia such as peace symbols.
Matt Holland of Youngstown stood out in a blond wig and a tiger-striped bikini. He was part of a four-man team called The Frozen Nuts.
"My feet are cold, but it wasn't bad," Holland said after diving head-first into the water.
"Our feet are freezing, but I'm glad we did it," echoed Linda Welling of Newton Falls, who, along with her husband, completed their first Polar Bear Plunge. "We'll do this again," she promised.
A section of ice had been cut and cleared at the Mosquito Lake State Park beach, and water depth was limited to 5 feet, according to Kevin Kuriatnyk, park office supervisor. Kuriatnyk and several other park employees stayed in the water in wetsuits in the event any of the swimmers ran into trouble.
None did, despite water temperatures estimated in the 35-degree range.
"It's cold enough that I would say you'd experience hypothermia in five to 10 minutes," Kuriatnyk said. Most of the swimmers were in and out in less than five minutes.
One of the first to go in was the oldest. Patty Maffitt, 82, of Bazetta, was one of three women over age 75 who took the first plunge.
Maffitt, wearing water protective clothing and holding the hand of an escort, continued wading into the water that rose nearly to her neck.
"I have a handicapped sister-in-law, and I thought of her and decided why not do this," Maffitt said. "I might do it again next year."
The large turnout led to a traffic jam at the event's conclusion. Delays for some lasted nearly 30 minutes before the state patrol could direct them onto state Route 305 from the park's only exit.