For the love of Luke, baseball needs to wake up
Like many couples, Chad and Nicole Holko had to wait a little longer to finally have their first child.
Luke was the Trumbull County couple's medical miracle son.
Four years into life, this past September, Luke pulled off another medical miracle.
He was nearly killed when a foul ball struck him in the back of the head at a Mahoning Valley Scrappers game. It fractured his skull and caused a brain injury that left him essentially starting over in life — talking, standing, sitting and walking.
Today, his progress has been substantial, said Chad.
"He's gone from sitting to standing to walking a couple steps," Chad said of his 4-year-old miracle. "Speech that was hard to understand has now become understandable to us for just about everything."
Luke deserves to see another miracle.
As much progress as he's made, there's not been as much with the Neanderthal thinking of professional baseball.
Luke needs to become the poster child whose near-fatal injury finally makes baseball confront its inherent problem with fan safety. Up until now, it has dodged this dilemma more deftly than Grady Sizemore does a high-and-in fastball.
Other sports leagues have not been as stubborn. At all levels of spectator hockey, including the Covelli Centre and the Ice Zone, there is protective netting around the end boards where pucks enter the crowd at the most-dangerous speeds.
Sure, the National Hockey League needed a dead spectator in Columbus to revisit its loose approach to spectator safety. But, it did, eventually, take action.
Baseball seemingly does not want to learn from hockey. More regretfully, it does not want to learn from Luke.
Or from Californian Susan Rhodes, who took a bat to her jaw, shattering it.
Or from Texan Maddie Emerson, who took a foul ball to the head and needed surgery to release pressure on the brain.
Or Jane Costa, who was in the ballpark for 10 minutes when a foul ball screamed over a Fenway Park dugout and slammed into her face — breaking bones and causing permanent damage.
Or Ronnie Zinner, whose scalp was split by a Derek Jeter foul ball. She bent over in her seat to set down some pizza a vendor had just sold to her. Had she been upright, the ball could have been a bull's-eye between the eyes.
There are hundreds of these tales — just Google "baseball fan injuries."
One lawsuit I found reported that in a five-year span at Fenway, injuries caused by foul balls ranged from 36 to 53 fans per year. Multiply that stat by 300 professional baseball teams networked through Major League Baseball, and at minimum, you may have 10,000 fan injuries per year caused by foul balls.
The injuries do bring lawsuits. I couldn't find winning cases.
While the nuances differ depending on the case, the winning defense has essentially been that there is assumed risk at these events. It's buyer beware; there are signs that warn of flying objects.
Signs? Here's a sobering stat: There are more injuries in baseball stadiums than on commercial planes.
Leigh Augustine's Sport Law class at the University of Denver studied this and found that in 2006, there were 750 million rides on planes and only four serious injuries. Yet baseball had 35 injuries per 1 million visitors.
And still, baseball hides.
Dave Smith is the Scrappers' general manager and has been a Luke supporter from the first moments, as has the rest of the club. Yet when I spoke with him this week, he still sounded like someone drinking from the same Kool-Aid as the rest of baseball.
Several months ago, he pledged that the Scrappers were looking at new safety measures because of Luke. I asked him for an update. He said a key plan is more signage encouraging fans to pay attention.
How can you simply tell fans to pay attention when the beer guy is getting my attention trying to peddle beer? I asked.
Or when the scoreboard person is updating an Indians score while a pitcher is on the mound?
Or when the pretty girls on the cheer team are prodding me to make some noise while tossing freebies?
The nature of sports — minors or pros — is that you're at an entertainment event, not just watching a batter and a pitcher.
You can't create a festival atmosphere all around me and then chide me when I do not watch the pitcher for 1.07 seconds (the time it takes a batted ball to reach a fan seated behind the dugout, so said an engineer in a lawsuit).
Extensive netting — like the NHL's — is the only answer to an immediate reduction in fan injuries. Smith offers the concern that baseball drags out every time: Netting could cut into fan enjoyment.
Really? Then explain why the most coveted and most expensive seats in baseball are the ones behind home plate — and a screen. (At Fenway, 2,500 seats are behind the home-plate screen.)
I do agree with Smith that a screen won't stop all injuries.
But it will prevent many of the most serious. Netting to a height of 15 or 20 feet should be a standard at all baseball stadiums, extending to the ends of each side of the infield.
And the Scrappers should be a pioneer in this step.
Let the rest of baseball be put under pressure because of "What that team in Ohio did."
Congress hauled baseball before them to dissect the use of steroids. Ohio politico Dennis Kucinich launched a "Baseball Fan Protection Act" — and it was about broadcasting games on TV.
Government officials have banned toys and baby strollers for less injuries than baseball has caused.
Imagine this: What if the 2010 baseball season opens in Niles with U.S. Rep. Tim Ryan standing with Luke, Chad and Nicole and Scrappers management and saying enough is enough. The Scrappers will improve the stadium, and Ryan will improve the thinking with help of others in Washington.
And fans and advertisers of the Scrappers can give Smith the courage he seemingly can't find from his baseball peers.
The team is now in the process of selling advertising and season tickets.
When they call you, tell them that you don't want to see another child carried away limp and unconscious from the stadium. Tell them that if the people behind home plate can enjoy the game behind protective screens, then so should everyone else. (Smith said they will be polling season-ticket holders about netting.)
If the Leno-Conan-NBC fiasco, forced by pressure from local television affiliates similar to WFMJ, proved anything, it's that smaller measures, when compounded, can change a bigger force.
Chad Holko says Luke will be back to a Scrappers game. It's what they love. He said they will be sitting behind the screen next time.
But someone will be sitting in the same seats they sat in last September.
I asked him what his thoughts would be if he saw it happen again.
"I'll be angry," said Chad, and it takes a lot for him to say that because he's mostly overwhelmed and thankful for the support and generosity of others since the incident.
But ...
"I don't see how you couldn't [fix] it after seeing this. You're aware of it now. I wouldn't wish this on my worst enemy."
Netting, in the big picture, is relatively inexpensive for baseball, Chad said. And with technology today, a system could be devised to raise and lower the netting before and after a game for fan-player opportunities, he said.
"I'm not a political person. I know it will take more than just me to get others to agree — something has to be done.
"Do you want a child to die at your stadium? My eyes weren't open to it before, but they are now."
Anyone else?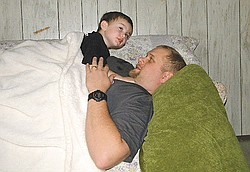 Photo
Luke Holko and his dad, Chad.