Valley church awaits word on Haiti projects
Earthquake in Haiti - Graphic Content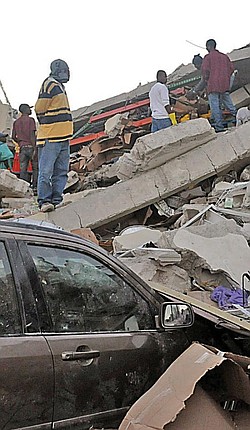 Gallery
By Rick Rouan
A family in Lisbon also has ties to the quake-ravaged country.
One local church's connection to Haiti was cut off about a year before an earthquake devastated the country.
New Bethel Baptist Church, 1507 Hillman St., has been giving money to a program in Haiti for the better part of a decade, but the pastor who ran the national organization died more than a year ago, and the local church has not heard from it since.
Now the church is trying to learn whether construction projects it helped fund are still standing and if the children it has aided are OK after a magnitude 7.0 earthquake rocked the country last week, said the Rev. Kenneth L. Simon, pastor of New Bethel Baptist Church.
"We helped build a feeding center, a school room," the Rev. Mr. Simon said. "We helped with food, clothing. We purchased viables for the kids."
The church first started contributing to the Poor Children Assistance Project about eight to 10 years ago, Mr. Simon said. It has contributed "thousands of dollars," he noted.
Pastor Nicolas Louis Juste, the program's creator, would send letters and photos showing how the church's contributions were being used. Mr. Simon showed some of the photos and read excerpts from the letters to the church congregation Sunday.
But the communication stopped about a year ago, when the church learned that Pastor Juste had died, Simon said.
"So we've had no contact, and now that the earthquake happened, we've tried to find a contact. We've gotten no answer," Mr. Simon said.
The e-mail address the church has is for Pastor Juste, and both phone numbers have been disconnected, Mr. Simon said.
"We were trying to find out the status of the project and what's become of our work there," he said. "That's been an effort in futility right now."
Last week, the earthquake hit the small island nation, leaving tens of thousands dead and millions in need of food and clean water.
A Lisbon family also has a connection to the country.
The mother- and father-in-law of Ian Palmer, who lives in Toledo now, have been missionaries in Haiti for 14 years, said Terri Palmer, Ian's mother.
"God's using them in incredible ways. They're ministering to the people," she said.
Ian's wife, Melissa, grew up in Haiti, where she attended high school, Palmer said, before returning to attend college in the U.S. Melissa has family in Mount Vernon, Ohio.
Palmer said that Melissa's parents are safe, but their home and the orphanage run by Christian Service International Ministries was destroyed.
The family is now working to provide basic necessities such as clean water and food to those in need, Palmer said.
Donations to the family's organization can be made at www.csiministries.org.
The family's daughter, Cheryl Benson of Mount Vernon, Ohio, described her parents as "in limbo." They are waiting for a guest house to fall and trying to salvage what they can out of the structure, she said.
Ultimately, though, they're trying to keep their mission established for when short-term volunteers leave the country, Benson said.
"When they're gone, they still need to be there to function and maintain and carry the weight of the work that needs to be done in the long term," Benson said. "They're trying right now to salvage the mission."
rrouan@vindy.com