Basketball returns to Covelli Centre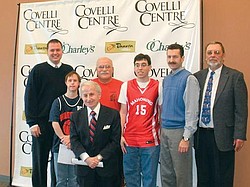 Photo
BASKETBALL SERIES: Tony Lariccia (first row), main sponsor for the Lariccia Family High School Basketball Series that begins Tuesday at the Covelli Centre, said that the annual event is to help young people at Monday's press conference in the Community Room of the Covelli Centre. Back row. Eric Ryan, Centre executive director; Eric Trebus, Mahoning County Public Warriors' player; Terry Bacha Sr., Mahoning County Indians' coach; Matt Jurczyk, an Indians' player; Michael Koken, St. Christine's School athletic director; Paul Andraso, administrator-treasurer of the Series.
By John Kovach
The Lariccia Family High School Basketball Series will feature 12 games and all levels of play.
YOUNGSTOWN — Variety will be the theme for this year's three-day Lariccia Family High School Basketball Series at the Covelli Center that begin tonight and continues Friday and Saturday.
The third annual Series will showcase five different kinds and levels of basketball in the 12 games scheduled over the three days.
The high school schedule will be combined with four parochial league games and one Special Olympics contest for a wide spectrum of basketball.
Sponsors for this year's Series are the Lariccia Family, Panera Bread (owned by Sam Covelli), Wendy's, PNC Bank, Pizza Hut, Perantinides & Nolan Attorneys At Law and the John Kovach Family.
Panera Bread also is serving as the presenter of the Series.
"My wife Mary and I are excited about this. We like the idea that this event makes kids feel good about themselves," said philanthropist and main sponsor Tony Lariccia, a Canfield stockbroker and a graduate of Struthers High and Youngstown State, Monday.
"The Special Olympics is a special feature. This is a fantastic thing. This makes everyone involved feel great about themselves."
Eric Ryan, executive director of the Covelli Centre, said the Series represents the kind of events that the Centre is looking to add to its schedule.
"This is the purpose of the Covelli Center, to promote local events," said Ryan, who lauded Lariccia's and Covelli's support.
"This would not be a doable event if Lariccia and Covelli didn't step up as sponsors to make a difference in kids' lives [by making it possible for them] to play in a venue like this with all the bells and whistles."
Paul Andraso, administrator-treasurer of the Series committee, said the boys high school schedule of games is very attractive this year.
"We will have three undefeated teams playing this year — Poland, McDonald and Mathews. We're supposed to have decent weather so I hope the fans will turn out to cheer their favorite team," said Andraso.
Michael Koken, the St. Christine's School athletic director, said the eight parochial teams in the Series are looking forward to the new experience that the games will provide.
"When we found out that we could play at the Covelli Centre, it was almost a no-brainer that we wanted to come. We are looking forward to playing in the Covelli Centre. This is a great opportunity for our kids," said Koken.
Coach Terry Bacha Sr. of the Mahoning County Indians, who has been coaching Special Olympics for 24 years, said that fans will be impressed by the players' high caliber of basketball skills.
"Come to see what the kids can do and not what they can't do," said Bacha, noting that Special Olympics basketball started in 1968.
Bacha's son, Terry Bacha Jr., is the team's offensive coordinator.
"I tell the players to pass the ball and look for the open man and make the play. I also help coach the defense and set up a zone defense," said Terry Jr.
Bacha Sr. said that Max Jurczyk, 16, of Canfield who is in his second year as a Mahoning County Indians' player, is an example of how quickly Special Olympians can learn.
"Max didn't know how to dribble a ball when he came out. Now he can really play," said Bacha.
Max, who was all smiles as the center of attention and in anticipation of playing at the Covelli Centre, called on the fans to, "Come out and support us. Coach Terry is a great coach. This will be a different experience playing in the Covelli Centre," said Jurczyk.
Representing the Mahoning Public Warriors' team was Eric Trebus, 29, of Canfield who has been playing basketball eight years.
His father, Richard Trebus, said his son started from scratch but now is a pretty good basketball player.
"When [Eric and players like him] started we didn't think they could do anything. But they just blew us away with what they can do," said Richard.
The Series is conducted by the Chevrolet Centre High School Basketball Series Committee, which was organized in 2008 to create and operate the non-profit project.
kovach@vindy.com