Earthquake in Haiti - Graphic Content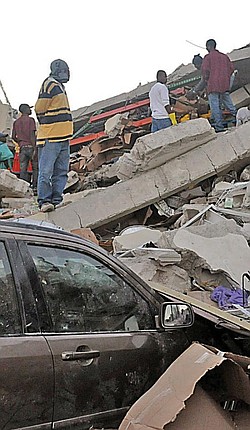 Gallery
PORT-AU-PRINCE, Haiti (AP) — U.N. Secretary-General Ban Ki-moon made an emotional tour of his staff's devastated headquarters Sunday and met with earthquake survivors desperate for food and shelter, telling them not to give up as international aid workers scramble to deliver help.
"I am here with a message of hope that help is on the way," Moon told a group of men and boys who had gathered in front of the severely damaged National Palace and were shouting that they needed food, water and work.
Ban said he has three priorities in Haiti: saving as many lives as possible, stepping up humanitarian assistance and ensuring the coordination of the huge amount of aid coming into the country.
"We should not waste even a single item, a dollar," he said.
Ban said the U.N. is feeding 40,000 people, and expects that figure to rise to 2 million within a month.
The secretary-general also said he was "very touched and grateful" for the outpouring of aid from other countries around the world.
Ban's first stop was at the collapsed U.N. mission headquarters in the capital, Port-au-Prince, where rescuers worked feverishly to rescue a Danish employee from the rubble. Staffers accompanying Ban wiped away tears as they viewed the destruction and mourned their dead and missing colleagues.
About 15 minutes after Ban left, emergency workers successfully pulled the man from the building. He was talking, was given some water and was taken to a hospital, U.N. staffers traveling with Ban said.
Ban's charter Boeing 737 was met by the acting chief of the U.N. peacekeeping mission, Edmond Mulet, who was sent in immediately after the quake to replace mission chief Hedi Annabi.
Annabi was buried in the rubble along with many others when the headquarters collapsed in Tuesday's magnitude-7.0 quake. His body was found Saturday and was to be flown back to the United States on Ban's return flight. Hundreds of others are missing, including more than 30 from the U.N. headquarters.
Shortly after landing, Ban had an emotional reunion with his former spokeswoman, Michele Montas, a Haitian woman who was visiting her mother at the time of the earthquake.
U.N. humanitarian spokeswoman Elisabeth Byrs in Geneva has declared the quake the worst disaster the international organization has ever faced, since so much government and U.N. capacity in the country was demolished. In that way, she said, it's worse than the cataclysmic Asian tsunami of 2004.
Ban called the quake "one of the most serious humanitarian crises in decades."
"The damage, destruction and loss of life are just overwhelming," he said.
The Associated Press. All Rights Reserved.