IN FOCUS: Music at Noon at the Butler
IN FOCUS: Music at Noon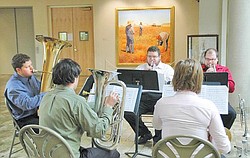 Gallery
By ROBERT K. YOSAY
VINDICATOR CHIEF PHOTOGRAPHER
Bringing wonderful music to the ears, beautiful art for the eyes and a morsel of food for the stomach, the Music at Noon concert series presented by the Youngstown State University College of Fine & Performing Arts at the Butler Institute of American Art has been entertaining people for more than 20 years.
The concert series was the brainchild of Dr. Lou Zona, executive director and chief curator of the Butler, 524 Wick Ave., and Professor Michael Gelfand, then director of YSU's Dana School of Music.
They decided that with the terrific acoustics with the 1987 West Wing addition, which included the Beecher Court galleries and atrium, it was only natural that it should become a place to engage the public with music and art.
The venue was simple. The College of Fine & Performing Arts, now under the direction of Dr. Michael Crist through the Dana Concert Series and faculty volunteers, would fill each week with different musicians.
With the art institute across the street, it is simple for students to walk across and play a concert during the lunch hour.
"The students are just great. The sound is spectacular, and what better place to stop for a moment and enjoy the concert?" asked Ellen Wakeford-Banks of Boardman as she listened from the side of the atrium of Beecher Court in the art gallery.
YSU students and faculty also enjoy playing for the public, as it has become competitive to fill the Wednesday afternoon sessions during the school year.
It is a great way to engage the public in the arts and music — a wonderful cooperative venture that would make the ancient Greek Muses happy.
IF YOU GO
Schedule of performances. All concerts are at noon Wednesdays.
Wednesday: Guitar ensemble, Francois Fowler, director
Jan. 27: Jazz combos
Feb. 3: String department, chamber music recital
Feb. 10: YSU choral ensembles, Hae-Jong Lee, director
Feb. 17: YSU percussion ensemble
Feb. 24: New music
March 3: Faculty artist recital, Dana faculty brass quintet
March 17: Jazz combos
Mar. 24: Dana wind quintet
March 31: Clarinet studio recital
April 7: Saxophone studio recital
April 14: Tuba/euphonium ensemble
April 21: New music
April 28: Brass chamber music, William Slocum, director