Toll of dead and dazed mounts in Haiti
Earthquake in Haiti - Graphic Content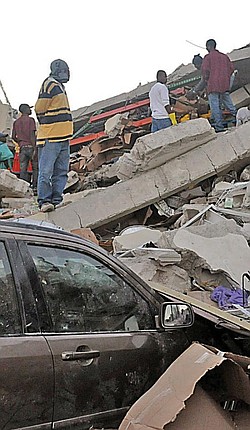 Gallery
The international Red Cross estimates 45,000 to 50,000 people were killed in Tuesday's quake.
Combined dispatches
PORT-AU-PRINCE, Haiti — Trapped beneath the crumbled remains of her home, the 9-year-old girl could be heard begging for rescue as neighbors clawed at sand and debris with their bare hands.
It had been two days since the 7.0-magnitude earthquake collapsed the cinderblock home Tuesday, trapping Haryssa Keem Clerge inside the basement. Friends and neighbors braved aftershocks to climb over the rubble, one of hundreds of toppled structures teetering on the side of a ravine.
In a city full of people desperately waiting for more help than neighbors can muster, it never came for Haryssa.
Just hours after her screams renewed rescuers' hopes Thursday, the child's lifeless body was finally pulled from the mass of concrete and twisted metal. Wrapped in a green bath towel, it was placed inside a loose desk drawer. With nowhere to take it, the body was then left on the hood of a battered Isuzu Trooper.
Makeshift morgues are appearing everywhere in this earthquake-ravaged capital — on the sidewalks, in highway medians, outside crumbled buildings. Outside the General Hospital morgue, hundreds of collected corpses blanketed the parking lot, as the grief-stricken searched among them for loved ones. The corpses of about 20 adults and children lie next to a crushed ambulance in the carport of a shuttered funeral home. Brazilian U.N. peacekeepers, key to city security, were trying to organize mass burials.
"It's beyond description. The disaster, the damage, is just so overwhelming," said Karel Zelenka, a Catholic Relief Services representative in Haiti. "Everyone has a scarf or something, because the smell is unbearable. ... You literally have bodies all over the place."
Desperation is mounting. There are no sirens and very few signs of international aid organizations bringing assistance. Electricity is out, there is no sanitation, and food and water are hard to come by. Long lines stretch at the few gas stations that are operating.
Tent cities of bedsheets and cardboard are rising in seemingly every one of the city's public parks; even those people whose homes are still standing are afraid to return to them. The once-lush green space across from the destroyed National Palace has become the capital's newest residential neighborhood, with hundreds — perhaps thousands — of survivors staking out spaces on the trampled grass and using bedsheets to turn playground equipment into impossibly cramped living spaces.
The Port-au-Prince International Airport was open and busy, with both large military jets and smaller propeller planes ferrying in rescue crews, journalists and supplies. Officials in Washington and around the globe are pledging an unprecedented relief effort for Haiti, even as they acknowledge that the extent of the earthquake damage will make it difficult to rescue people quickly or get food, water, medicine and shelter to those in need.
Doctors and search dogs, troops and rescue teams flew to the devastated land of dazed, dead and dying people Thursday, finding bottlenecks everywhere, beginning at a main airport short on jet fuel and ramp space and without a control tower.
The international Red Cross estimated 45,000 to 50,000 people were killed in the cataclysmic earthquake, based on information from the Haitian Red Cross and government officials. Hard-pressed recovery teams resorted to using bulldozers to transport loads of dead.
Worries mounted, meanwhile, about food and water for the survivors. "People have been almost fighting for water," aid worker Fevil Dubien said as he distributed water from a truck in a northern Port-au-Prince neighborhood.
From Virginia, from France, from China, a handful of rescue teams were able to get down to work, scouring the rubble for survivors. In one "small miracle," searchers pulled a security guard alive from beneath the collapsed concrete floors of the U.N. peacekeeping headquarters, where many others were entombed.
President Barack Obama and the U.S. moved to take charge in Haiti on Thursday, dispatching thousands of troops along with tons of aid to try to keep order as well as rescue the suffering in a country dysfunctional in the best of times.
Tested by the first large-scale humanitarian disaster of his presidency, Obama ordered a relief effort of historic proportions despite the strains it was sure to put on both the stretched U.S. budget and military forces fighting two wars. He pledged an initial $100 million — with the likelihood of more later.
"The United States is providing a lot of the glue that is keeping people communicating and working together as we try to assert authority, reinstate the government and begin to do what governments have to do to rebuild," Secretary of State Hillary Rodham Clinton said on Fox News Channel.
"I will not put up with any excuses for us not doing the very best in this time of tragedy," Obama pledged at the Capitol.
The president announced "the first waves" of the American response were in place, with two search-and-rescue teams on the ground, Coast Guard cutters in port, the U.S. Southern Command in control of the airport and airlifts bringing in urgently needed supplies and ferrying out the injured.
But the chief emphasis out of Washington was the huge amount of U.S. help that was still on the way — some half-dozen ships and 5,500 soldiers and Marines were making their way across the Caribbean.
From Europe, Asia and the Americas, other governments, the U.N. and private aid groups were sending planeloads of high-energy biscuits and other food, tons of water, tents, blankets, water-purification gear, heavy equipment for removing debris, helicopters and other transport, and teams of hundreds of search-and-rescue, medical and other specialists.