Valley residents seek news of Haitian friends after quake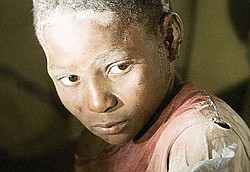 Photo
TENDING WOUNDS: An injured boy is tended to at the Hotel Villa Creole in Port-au-Prince, Haiti, after a 7.0-magnitude earthquake hit the Caribbean nation Tuesday.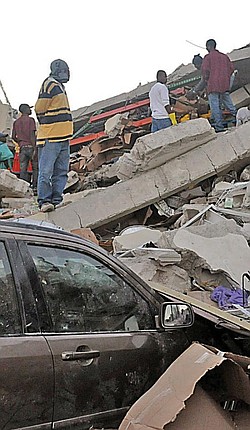 Photo
People stand on rubble along Delmas road the day after an earthquake hit Port-au-Prince, Haiti, Wednesday, Jan. 13, 2010. A 7.0-magnitude earthquake hit Haiti on Tuesday.
Valley natives tell of time spent in the disaster-stricken country.
By LINDA M. LINONIS and RICK ROUAN
Vindicator Staff Writers
Haiti is ill-equipped to handle a major natural disaster, according to Mahoning Valley residents who have a connection to the island nation.
A 7.0-magnitude earthquake struck there Tuesday.
It hit a country that already lacks basic resources, one in which most people live in extreme poverty, and this crisis is compounding problems that already exist, they said.
Since 2000, the Rev. Terrence Hazel and his parish, St. Michael Church in Canfield, have had a relationship with the Little Children of Jesus Orphanage in Haiti, located about 10 miles east of Port-au-Prince. Haiti's capital.
In 2000, Father Hazel attended a clergy convention in Oakland, Calif., where he saw a display on Food for the Poor. When he asked the priest staffing the booth about what the organization did, the priest told him to come to Haiti and find out. He did; he's made four trips so far.
The Food for the Poor organization told Father Hazel about the "great need" at the Little Children of Jesus Orphanage, where there are 103 severely disabled children. The church sends a monthly monetary donation to help support the work at the orphanage.
"We're concerned about what happened. ... We've seen a lot on the news about collapsed buildings," Father Hazel said. "We have second-hand information on the orphanage. ... It was damaged but not destroyed."
Father Hazel, whose most recent trip to Haiti was last November, said communication with the orphanage had been sporadic, and the earthquake will make it more so.
Dr. Scott Agnew of Boardman, a member of Evangel Baptist Church in Boardman, was a medical missionary at the Hospital of Light in Bonne Fin in the southern province about 100 miles west of Port-au-Prince. He was there through the Lumiere Medical Ministry based in North Carolina. A family practitioner, he is affiliated with Trumbull Mahoning Medical Group.
Agnew and his wife, Sandy, and children Kristen and Jenna lived in Haiti from 1988-96, and their daughter Lauren was born there.
"Watching the news, I was thinking ... I've walked through those neighborhoods," Agnew said. "Places looked familiar."
"I'm trying to identify with what's going on there," he said, noting that he has a number of friends and colleagues still there. "Haven't heard from anyone ... I just don't know how they are ... I'm anxious about that."
Agnew said he went into medicine to help people, and his faith was one reason why he wanted to do missionary work.
"It's a place that has few resources and didn't need another problem. They just don't have the resources for rebuilding," Agnew said. "Three-fourths of the children are malnourished and under the growth curve."
Agnew said he diagnosed more cases of tuberculosis than anything, but HIV was second.
"Life is already hard for these people who live in extreme poverty," Agnew said. "The country already is lacking in resources."
Agnew said access to clean water is a major issue and will be compounded by the earthquake's devastation.
He also noted that rural areas have no public utilities. At the mission medical clinic, electricity was provided through a hydro-electric set-up from a turbine generator powered by a waterfall. They got water from a cistern built by the clinic.
In terms of shelter from the weather, Agnew said it is in the 90s at this time of year during the day and 70s at night, so people could easily stay outdoors.
Sophie Paris, a United Nations photographer from Salem, spent almost three years in Haiti.
Paris still has friends — both native to Haiti and within the United Nations — who live in the country. She said she has been in contact with some of them.
"There's just collapsed buildings everywhere," she said. "People are scrambling to dig people out with their hands."
From her UN post in New York, Paris has tried to help friends in the disaster-stricken country. She said she has made contact with trapped friends on the social networking Web site Facebook and called others who were already freed to dig them out.
"A lot of them are as we speak being pulled out of rubble. Some we know are alive," Paris said. "We've been using Facebook, which has been really instrumental, bizarrely enough."
Paris spent time in Haiti from July 2004 to May 2007 as a UN photographer. The country, she said, is poverty-stricken and overpopulated in some areas.
The way homes are built in the country make it particularly susceptible to natural disasters, she said.
"House built upon house built upon house ... it's almost like a termite mound," she said.
Friends in Haiti have told Paris they are witnessing "a complete disaster."
"I think it's going to take years for the country to recover," she said.
Brian Corbin, director of Catholic Charities Services and diocesan director of Catholic Relief Services (CRS), said he and Bishop Thomas Tobin, former bishop of the Catholic Diocese of Youngstown, visited Haiti in 2004. They went because Bishop Tobin was on the CRS board at the time.
His trip for CRS involved visiting Haitians who crossed the border to work in Dominican Republic, the other country on the island of Hispaniola.
Corbin said CRS dealt with issues of water, health, housing and advocacy.
"It's overwhelming work ... there is so much poverty," he said.
He noted part of the problem is that the Haitian government issues no identification papers for people.
"No papers, no identification, and they can get no services," Corbin said.
"Without a lot of help from people around the world, there won't be recovery from this," Corbin said.
Sister Joanne Garder, director of communications for the Sisters of the Humility of Mary, said Sister Judy Dohner, originally from Akron, works at a clinic near Fondwa in Haiti, about 90 minutes from Port-au-Prince.
"She's a nurse and works in a clinic there," Sister Gardner said.
"We talked with her yesterday [Tuesday] on a conference call before the earthquake," Sister Gardner said. But there has been no word from Sister Dohner since then. "
"We're waiting to hear from her."
---
HOW TO HELP
The American Red Cross has pledged an initial $200,000 to assist communities impacted by the earthquake in Haiti, and is prepared to take further action as local responders assess the situation. "Initial reports indicate widespread damage in Port au Prince, with continuing aftershocks," says Tracy Reines, director of international disaster response for the American Red Cross. "As with most earthquakes, we expect to see immediate needs for food, water, temporary shelter, medical services and emotional support."
Response: The international American Red Cross has made available all of the relief supplies from its warehouse in Panama, which would provide for basic needs for about 5,000 families. It is deploying a disaster management specialist to Haiti, and has additional disaster specialists on standby if needed. The American Red Cross has an extensive partnership with the Haitian Red Cross, which is expected to lead the Red Cross response to the earthquake. The Red Cross is not accepting volunteers to travel to Haiti.
Red Cross donations: Mahoning, Trumbull and North Columbiana chapters are accepting money donations. Send donations, earmarked for Haiti relief, to: Mahoning Chapter Red Cross, 8392 Tod Ave., Boardman, Ohio 44512, (330) 726-6063; Trumbull Chapter, 661 Mahoning Ave. NW, Warren, Ohio 44483, (330) 392-2551; or North Columbiana County, 5843 Ohio 45, Lisbon, Ohio 44432-9396, (330) 424-6610. Visit www.redcross.org to make a donation.
Catholic Relief Services: The Catholic Diocese of Youngstown is accepting monetary donations to support the work of Catholic Relief Services (CRS) in Haiti. CRS is the official overseas relief and development agency of U.S. Catholic bishops, which provides emergency assistance. Send donations, earmarked for Haitian Earthquake Fund, to Catholic Relief Services, in care of the Office of Social Action, Catholic Diocese of Youngstown, 144 W. Wood St., Youngstown, Ohio, 44503. For information, call Brian Corbin, diocesan director of CRS, at (330) 744-8451, ext. 320.
Catholic Medical Mission Board: The organization is accepting donations. Monetary contributions can be made by sending checks, payable to CMMB-Haiti, to CMMB, 10 West 17th St. New York City, N.Y., 10011, or by calling (800) 678 5659. Pledges can also be made via the CMMB Web site at www.cmmb.org. Donated medicines and medical supplies are also being accepted by CMMB. To make these donations, contact Kathy Tebbett at (212) 242-7757. CMMB has worked in Haiti since 1912 when its founder, Dr. Paluel Flagg, went there to help those suffering from leprosy, and maintains a key office there. Overall, 96% of donations received by CMMB are directly applied to services to help those in need.
Youngstown-Warren Air Reserve Station: "Although the 910th Airlift Wing has not received a tasking in support of Haiti relief efforts, we have aircraft and personnel ready to serve when called," said Col. Karl McGregor, 910th Airlift Wing Commander, in Vienna.
To Check the welfare of friends, relatives: People trying to locate U.S. citizens living or traveling in Haiti should contact the U.S. Department of State, Office of Overseas Citizens Services, at (888) 407-4747 or (202) 647-5225.
---
SEE ALSO: DEVASTATION | Rescue efforts race against time and Across U.S., outpouring of grief, help.