Former Phantom Saad, E. Palestine's Miller playing for Team USA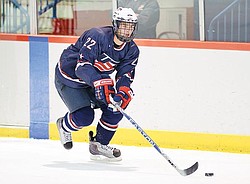 Photo
THE BOYS ARE BACK IN TOWN: Team USA features two players with ties to the Mahoning Valley. Pictured here is Brandon Saad, a Mahoning Valley Phantom during the 2008-09 season. Also playing for the Nationals is East Palestine native J.T. Miller. Saad was the NAHL Rookie of the Year last season while Miller was a member of the team that won the U-17 championship two weeks ago in Canada.

Photo
THE BOYS ARE BACK IN TOWN: Team USA features two players with ties to the Mahoning Valley. Playing for the Nationals is East Palestine native J.T. Miller. Saad was the NAHL Rookie of the Year last season while Miller was a member of the team that won the U-17 championship two weeks ago in Canada.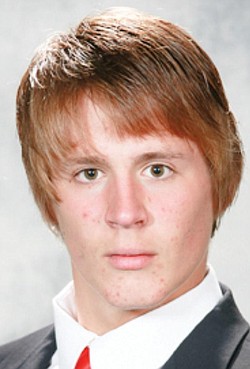 Photo
East Palestine native J.T. Miller will skate for Team USA against the Youngstown Phantoms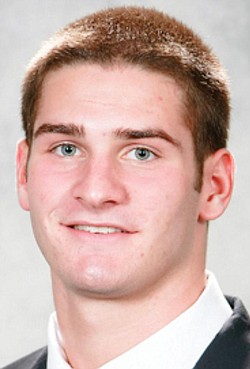 Photo
Former Mahoning Valley Phantom Brandon Saad
When: Saturday at 7:15 p.m. and Monday at 6:30 p.m.
Where: Covelli Centre.
Radio: WBBW-AM 1240.
Former Phantom Saad, E. Palestine's Miller back in Youngstown with Team USA
By TOM WILLIAMS
VINDICATOR SPORTS STAFF
The last time hockey player Brandon Saad took the ice in Youngstown, the Gibsonia, Pa., resident wore a Phantoms uniform, Bob Mainhardt was his head coach, the opponent was Team USA of the North American Hockey League and the arena was named the Chevrolet Centre.
Saturday, when Saad returns to the renamed Covelli Centre, he'll be wearing a Team USA uniform and the opponent will be the Phantoms, coached by Mainhardt in a different league (United States Hockey League).
On Monday, Team USA will send onto the ice another player with Mahoning Valley connections. East Palestine native J.T. Miller is part of Team USA's Under 17 squad that will play the Phantoms in the second contest of their holiday weekend series.
Two weeks ago in Ontario, Miller's squad defeated two-time defending champion Canada to win the 2010 World Under-17 Hockey Challenge.
With five goals, Miller, who attended East Palestine High through his sophomore year, was Team USA's leading scorer in the tournament. East Palestine senior basketball player Austin Cope said he and teammate Ben Gysin used to play youth baseball with Miller.
It's been a year of change for hockey in Youngstown as well as Saad, last season's NAHL Rookie of the Year. Saad is a member of Team USA's Under-18 unit which will play the Youngstown Phantoms on Saturday at 7:15 p.m.
During the 2008-09, Saad scored 53 points in 54 games with the now-defunct Mahoning Valley Phantoms.
Last May after the Phantoms' season concluded, owner Bruce Zoldan folded the team and created the Youngstown Phantoms as an expansion team of the USHL, a higher-level junior league.
The Phantoms drafted Saad and his brother, George, in one of the USHL drafts. But before the Phantoms held a training camp in mid-June at the Ice Zone in Boardman, Brandon Saad's rights were sent Team USA, which also joined the USHL as an expansion team.
Mainhardt, the Phantoms' general manager and head coach, cited philosophical differences for Saad joining Team USA.
This week, Saad said it was a family decision to play for Team USA.
"At the end of the season, we had decisions to make and figured coming here would be best," Saad said of the USA Hockey's National Team Development Program. "We had nothing against the program there."
Team USA's program is based in Ann Arbor, Mich. Saad and his teammates are attending Pioneer High School.
Living away from home for the first time has been a challenge,
"School-wise, things are pretty much the same," said Saad, who is 6-foot-2 and weighs 195 pounds. "But it's definitely tough leaving home, waking up and not seeing my parents every day."
Saad, 17, said he also misses spending time and playing with his brother George, who is a freshman at Penn State.
"He's playing on their Division I club team," he said.
During a recent Pittsburgh Penguins telecast, play-by-play announcer Paul Steigerwald spoke of Pittsburgh-area hockey players who are blossoming, mentioning Saad and Miller. Steigerwald even proclaimed Saad a future first-round National Hockey League Draft pick.
Saad wasn't watching when Steigerwald mentioned his name, but friends and his parents (George and Sandy) were.
"It's unbelievable to hear someone like that say something [so flattering]," Saad said. "It's a great feeling and it really inspires you to just keep working hard."
Saad will be eligible for the National Hockey League Draft conducted in June 2011.
He admits it will be "a little weird" playing at the Covelli Centre but using the visiting locker room.
He'll have a cheering section — his mom has told him that there will be "a bunch of family members" there.
Saad said he remains in contact with Phantoms goaltender Jordan Tibbett, the only Youngstown Phantom who was on the Mahoning Valley team last season.
"We keep in touch," Saad said. "We're still friends."
As a freshman, Saad played for Pine-Richland High School in Gibsonia. Former Penguins forward Troy Loney was Saad's coach.
As a sophomore, he and his brother lived at home and commuted to play for the Phantoms. The team's leading scorer for most of the season, Saad suffered a lower-body injury last March and missed about four weeks while recuperating.
He was able to rejoin the team during the Phantoms' best-of-five North Division playoff series against Team USA.
Saad's scoring skills helped lift the Phantoms to a 2-1 win in the deciding Game 5 and a return trip to the NAHL Robertson Cup Tournament that was held in Mason City, Iowa.
Two weeks ago, Miller scored an important goal to help lift Team USA into the championship round of the Under-17 tournament. With 40 seconds remaining in a semifinal game against Sweden, Miller's wristshot hit the top corner of the net to force overtime.
In the championship game against Canada, Miller earned an assist on Tyler Biggs' game-winning goal in the 2-1 contest.
Because the two squads split the USHL schedule, Saad and Miller have played a lot fewer games than the league's leading scorers. In 11 USHL games, Saad has two goals and five assists for seven points. Miller has played 14 USHL contests and has two goals and four assists.
With two squads representing the national program in one league, Saad was asked if it's confusing keeping track of which team plays where and when.
"Not for us," Saad said. "They do a great job of letting us know our schedule. But I can see where it might be confusing to others."
williams@vindy.com