Florian K. Lawton: A love for the land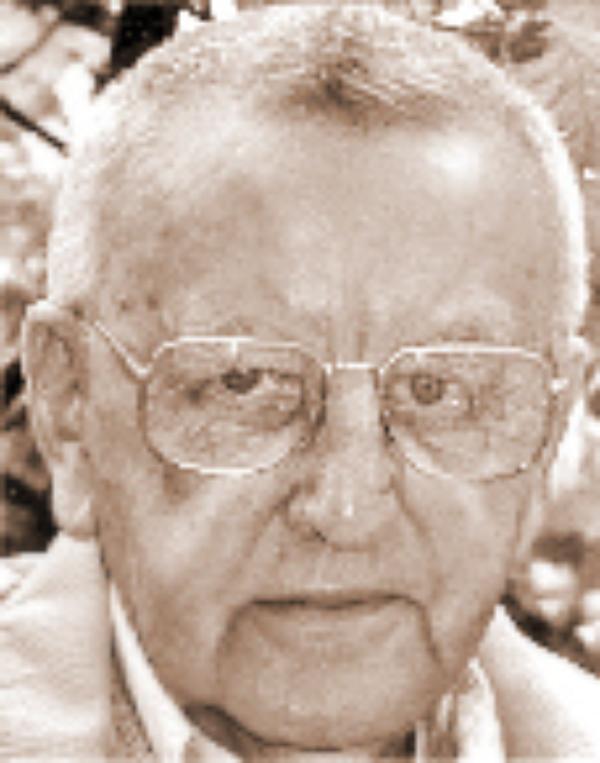 Photo
If you go...
What: "Florian K. Lawton: Half Century of Art"
When: Now through Feb. 14
Where: Butler Institute of American Art, 524 Wick Ave., Youngstown
Reception: An artist's reception will be 1-3 p.m. Sunday at the Butler (rescheduled from Jan. 3)

Photo
WINTRY LANDSCAPE: Florian K. Lawton's white-on-white technique is showcased in this piece, which features Amish families ice skating on a lake.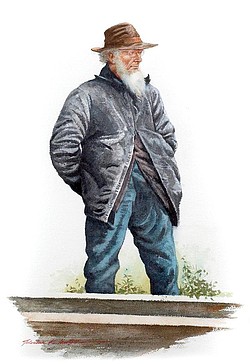 Photo
Florian K. Lawton's "Discerning Gentleman" (1978)
His work captures the peacefulness of Northeast Ohio's Amish country
Certain themes run strongly through Florian K. Lawton's art.
Rural landscapes in which man respectfully co-exists with nature. Farmland and woods on bleak wintry days with gray skies and barren trees. The Amish going about their lives, in gentle harmony with the earth.
The artist, 88, found these things in abundance in Portage and Geauga counties, where he spent much time in his younger days and where he lives today.
But one gets the impression that if he lived on the other side of the globe and knew nothing of the area, he would have found it — so closely in tune with its rhythms is he.
An exhibition of Lawton's delicate watercolors that span 50 years is on display at the Butler Institute of American Art. The artist will be on hand for a reception Sunday afternoon.
"Florian is very skilled, and the work is beautifully decorative," said Lou Zona, director of the Butler. "One can understand why his painting is so popular."
An essay on the artist can be found in the book "Florian K. Lawton: Fifty Years of Art," published by the Lawton Foundation and the Butler. In the piece, Lawton explains his muse and his methods.
"Winter is my favorite time of the year," he said. "It always stimulates and recharges my creative focus, so I religiously plan outings to rural areas in winter, looking for a vista with immediate impact. ... I often haunt the landscape after a snowfall, walking where possibly a lot of others don't. It's a form of meditation."
In the 1960s, Lawton discovered the picturesque farms of the Amish that would later become his specialty. Because the Amish do not like to be photographed or sketched, it took him some time to build up trust with the community.
Kenneth Lawton is the artist's eldest son and the executive director of the Lawton Foundation in Aurora. In an interview with The Vindicator, he shed light on his father's attraction to the Amish.
"He found the Amish culture to be a perfect fit in terms of his personality," said Kenneth Lawton. "The simplicity of their culture, their reverence for nature. They don't change things — they work within the balance of nature. That appealed to [my father] very much."
Lawton worked exclusively in watercolors, and the characteristics of the medium reflect his personality. The colors are translucent and dry quickly, which allow the artist to stay in touch with his original pencil sketch. The muted hues and delicacy also appeal to him.
Lawton is a master of the medium, a fact exemplified in his white-on-white technique.
"What he's managed to do is master the use of watercolor with the white of the paper — referred to as white on white," said Kenneth Lawton. "The white of the paper is used as a color. You can see it in a few that are in the exhibition where there's a lot of snow. The whiteness of the paper create this resonance that is really quite remarkable. Watercolor is a transparent medium, and his technique illustrates his mastery of the medium."
The octagenarian Lawton still paints, but these days he spends more of his time teaching. In fact, just this week he started a class at a community center in Aurora.
Lawton was born in Cleveland in 1921, the son of Maximillian and Mary Lawicki. Upon returning from World War II, he enrolled in the Cleveland School of Art in 1946. He married Lois Mary Ondrey in 1949, the same year he changed his name to sound more Anglo-Saxon.
He worked as a purchasing agent for a local company while he and his wife raised their four children, all the while painting.
In 1974, at the age of 53, he found himself financially able to leave the corporate world and focus on his art. He became a member of the Salmagundi Club in New York, where he showed his work on a regular basis, and was elected to a number of water-color societies.
A 25-year retrospective of his work was shown at the Butler in 1989.
More like this from vindy.com