Police dog offers big assist in Struthers, Campbell cases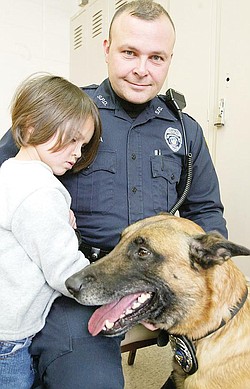 Photo
PROTECTOR AND FRIEND: The Campbell Police Department is trying to raise money to buy and train a police dog. Struthers Police Officer Jason Murdza is shown with his police dog, Rebel, and his 4-year-old daughter, Tori. Campbell police have used Rebel to help solve crimes in the city.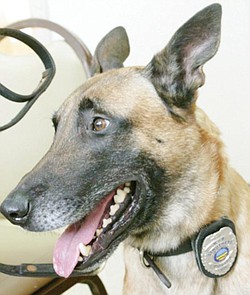 Photo
Police dog fund | How to donate
Campbell Police are raising money for the city's own police dog. Donations are being accepted, and a fund-raising dinner is planned.
To donate: Visit PNC Bank on Tenney Avenue in Campbell, where an account is set up, or donate at the police department in the bottom floor of the municipal building, also on Tenney Avenue.
Checks should be mailed to the department only: Campbell Police Department, 351 Tenney Ave., Campbell, OH 44405.
A buffet dinner at St. John Church on Reed Avenue is set for March 13. Cocktails will be at 6 p.m., with dinner at 7. The evening will feature a reverse raffle with a chance to win $1,000. Tickets are $50 per person, and are limited. See any police officer for tickets, or obtain them at the police department during weekly business hours.
Campbell is getting help raising donations for a dog from a fund-raising veteran.
STRUTHERS — In Campbell, the suspect in a nightmarish attack was in hiding.
A 15-year-old girl had been raped that October morning on her way to school, and police believed from her description that they knew who her attacker was.
But they needed help tracking down the man, who didn't have a permanent address. They worked throughout the day to find him. That night, they called in a special officer.
Rebel, a 75-pound Belgian malinois, is the four-footed half of Struthers' K-9 police team, and he has a real nose for that kind of police work.
He and his partner, patrol officer Jason Murzda, went with Campbell police to a house on Reed Avenue where they believed the man was hiding.
Beloved by "the whole city," said Murzda, Rebel had on his bullet-resistant vest that was bought with money raised by high-school students. He padded his way into the house and up a set of stairs.
His behavior told the other officers there was indeed someone in there in a small bedroom clogged with piles of clothes.
"Rebel alerted," said Murzda. Campbell police searched the room and found the suspect under some of the clothes.
That night, Rebel not only found someone suspected of attacking a teenager at knife point, he also kept other officers safe. By going into the house first, he would have borne the brunt of any aggression.
Rebel does a lot for his fellow officers — he tracks suspects, sniffs out drugs and can find missing people.
He's even quite sociable when he's not in what Murzda calls "work mode," and that makes him a perfect public-relations tool. Murzda takes him to schools and Cub Scout meetings.
When he's not working, Rebel is also a member of Murzda's family and an attention hog — he whined with excitement while Murzda showed him off at the police station last week. Murzda's daughter, 4-year-old Tori, tried to help keep Rebel entertained.
Campbell police borrow Rebel an average of about four times a month.
Not surprisingly, they would like to have their own dog, saying they would be able to use one a lot more if it were theirs.
So they've started a donation drive to get one. Murzda, who headed a similar drive in Struthers before the city got Rebel a year-and-a-half ago, is helping them. They'll need to raise about $30,000, including $11,000 to $12,000 for the cost of the dog and training. The rest would be for a cruiser and special equipment, including a system that automatically lowers windows and blares the siren if it gets hotter than 90 degrees in the car. Murzda also has a button that opens the doors if he suddenly needs the dog during a call.
The car's entire back-seat area has to be a kennel for the dog, and that could even be donated — Struthers got its kennel from the Florida Highway Patrol, he said.
The car itself, he said, was donated by the Ron Haus Auto Group.
On Struthers' police force for 51'Ñ2 years, Murzda, 38, said he's always been interested in working with a dog.
When Terry Stocker became mayor in January 2008, Murzda said, Stocker asked why the city didn't have a dog. By that time, Murzda already had researched costs and other issues involved in getting one. When Stocker gave the go-ahead to do the fundraising, Murzda drew up letters and sent them to local businesses. He visited large businesses in person.
Campbell already has $1,500 in an account set up at PNC Bank on Tenney Avenue, said Campbell officer John Gulu. The department also is sending letters to businesses and organizations.
As far as Murzda is concerned, the more police dogs in Mahoning County, the better. There are 14 teams here.
"Just the presence of a canine will decrease crime," he said. "Criminals know what dogs are capable of today. The more dogs we have — word spreads."
More like this from vindy.com