Poland's quick start ignites 106-75 win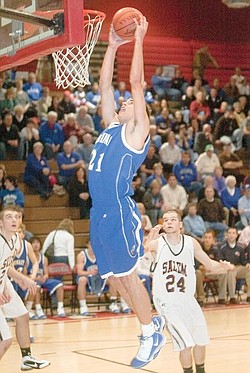 Photo
MONSTER GAME: Poland's David Baker scores two of his 22 points in front of Salem's Sam Schuster during the third quarter of Tuesday's game at Salem High School.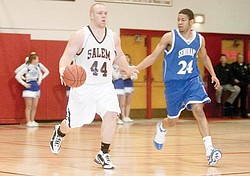 Photo
MOVING UP THE FLOOR: Salem's Mike King dribbles upcourt past Poland's Ben Donlow during the third quarter of Tuesday's game at Salem High School.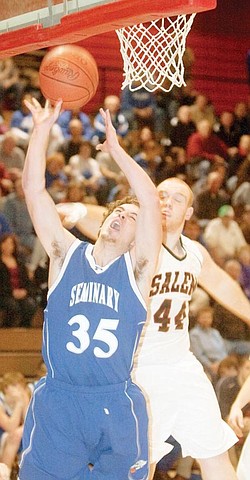 Photo
Poland's Luke Wollet manages to score two points despite the defensive attempts of Salem's Mike King (44) and Ryan Wolfgang (22) during the third quarter of a game at Salem High School on Tuesday evening.
Poland's quick start ignites 106-75 win
Jake Madison scored 42 points for Salem.
SALEM — Sometimes Poland basketball coach Ken Grisdale can understate his interpretation of his team's play after a game.
Like when he says, "We did a lot of nice things and demonstrated our offensive skills pretty well," after his team scores 106 points in a 32-minute basketball game.
High school teams just don't hit the century mark very often.
The Bulldogs however, shot over 55 percent from the field and made 16 three-point baskets in a thrilling 106-75 victory over the Salem Quakers on Tuesday night.
And, oh by the way, Poland threw in a couple of impressive alley oop dunks by David Baker from Luke Wollet, 'just for fun.'
"Those are a lot of fun," said Baker who scored a team-high 22 points. "We practice those a few times every practice and Luke does a great job of passing the ball to the right place."
Poland (7-0) scored the first 16 points of the game, including three straight 3-point shots by Niko Fatimus, and never looked back.
Fatimus made six of those 3-point shots and finished with 20 points in the game.
But there was plenty of heroics for a Salem team that has played some of the top teams in the valley in its first nine games.
Junior Jake Madison scored 42 points on 15 of 23 shots from the field and was 9 of 11 from the free throw line to just miss eclipsing the school record of 45 points held by Walt DeShields.
Madison helped lead a third period rally by the Quakers that actually cut a 55-36 halftime deficit to 64-55 with about two minutes left in the quarter.
Madison scored 11 points in that third period.
But Grisdale nor the Bulldogs did panic. Grisdale didn't even call a timeout after the 13-4 Salem run.
"These guys have played together for four years," said Grisdale of his senior class. "They know how to get themselves into that predicament and they know how to get out of it."
Grisdale said it is often one of the detriments to the full-court style of play the Bulldogs employ.
"The way we play," Grisdale explained, "is that there are times when we stretch the game and then it can come back to getting close.
"These guys know they have to stretch it back out again and so there isn't anything that I'm going to tell them to make that happen."
The Bulldogs did just that by going on a 13-3 run to end the quarter and pretty much seal the game.
Salem coach Will Klucinec said he liked a lot of what he saw from his team.
"We aren't trying to be as good as Poland and Canfield," said Klucinec about this game and the loss to Canfield last Friday. "We just want to be the best that we can be.
"We are learning to do that. We did a lot of nice things and if we continue to improve I'd like to see what we can do against [Poland] later in the season."
Poland had 11 players break into the scoring column and outrebounded the Quakers 41-27.
Salem (4-5) also got 14 points from junior Trent Toothman.