Boardman's Martin invited for European games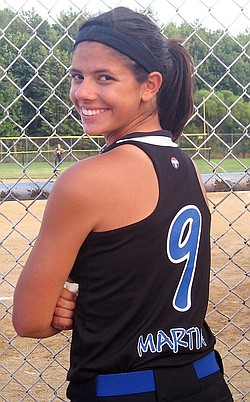 Photo
By John Kovach
The infielder will be playing games in the Netherlands.
BOARDMAN — In January 2009, Boardman High softball player Angela Martin attended a Queen of Diamonds Showcase at Kent State.
As a result of that experience, the senior second baseman for the Spartans will be making a trip to the Netherlands today to play in a three-day international softball tournament in Amsterdam.
Martin, who will be in her fourth year as a starter for Boardman this coming season, will be one of 50 American girls on five different teams making the journey to play in the tournament. She's one of 10 players on her Firesticks team.
"We will play six to eight games on Friday, Saturday and Sunday, depending on how well we do, hopefully eight. After we are done playing, we will go to France for sightseeing and fun," said Martin, who will be accompanied on the trip by her mother, Jill.
"We are going to be playing against some great competition. The first game we play will be against the Dutch national team. So just the experience level and meeting new people and enjoying everything there. I have never been overseas."
Martin had no idea that this opportunity was possible when she attended the showcase conducted by The Q Sport (www.theqsport.com), which also arranged for the international trip.
"There were 200 other girls there," Martin said. "A man was walking around and looking around for girls that he thought would be good for the tournament.
"I wasn't aware of that at the time, and then two months later he called me and asked me if I wanted to play on a U.S. team in the Netherlands," Martin said.
"He gave me the Web site and a link to it that had all the requirements, and told me to check it out to see if I was interested. I thought it was such a great opportunity and so I jumped on it."
Her mother also is looking forward to the trip.
"I never have been out of the country so it will be a nice experience for both of us," said Jill, noting that Angela will take a lot of softball experience with her.
"She has been playing travel ball in the summer since she was 10 years old, first with the Valley Sting for two years, the Ohio Magic four years and now in her second year with the Valley Extreme," she said. "She plays year-round."
This winter, Jill said Angela has been playing with the Boardman High team in the Spano Dome in Akron.
"Boardman plays teams from all over the area in doubleheaders on Sundays. They do that till the end of January, then they start their conditioning program for the team's spring season," Jill said.
Angela's father, Frank Martin, said that Angela was selected to play in the Queen of Diamond showcase by a nomination process.
"You have to get nominated by someone to play in the showcase," Frank said. "They invite players to come to the [showcase] tourney and college coaches come to scout the players. They pick certain kids."
Frank said the family had to underwrite most of the expenses for the trip to the Netherlands.
"Players have to pay their own way for the trip. We did a little bit of fund-raisers and the family will pay the rest for the trip," he said.
Jill said the family also raised some money through contributions.
Frank said that Angela really is into softball.
"She has a great attitude and understands the game. She knows softball and she likes the game. She has been playing since she was six years old," said Frank, noting that Angela is looking forward to continuing playing softball in college.
"She is a senior now and in her last year of softball," he said. "She wants to play softball in college and a few [schools] have shown an interest in her."
Frank noted that Angela and Jill will be in Europe "until Jan. 20. Her team will play against some of the U.S. teams and international teams, including two against the Dutch national team."
kovach@vindy.com