Unique motorcycle saves energy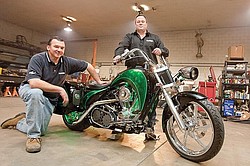 Photo
UNIQUE BIKE: Shawn Lawless, president of Lawless Industries in Boardman, stands over a hybrid motorcycle that will be shown on the "American Choppers" television show. He designed the drive system for the motorcycle. With him on the Lawless production floor is Bill Ebie of Crescent Electric Supply.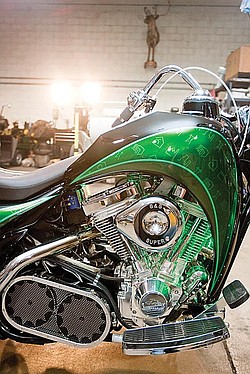 Photo
CLOSE-UP LOOK: The hybrid motorcycle designed by Lawless Industries features two electric motors and a gasoline-powered engine.
By Don Shilling
The hybrid motorcycle can be loud and fast or quiet and energy efficient.
A Boardman company was instrumental in the design of a one-of-a-kind motorcycle that will be unveiled on television Thursday.
Lawless Industries designed the drive system that allows the rider to choose between a silent, gas-free ride or one that's high- performance and high-decibel.
"This is big, fast and loud, or you can flip a switch and go green," said Bill Ebie, a parts distributor from Cleveland who worked with the local company.
The bike will be shown publicly for the first time Thursday on "American Choppers," a show that features the custom-bike designers from Orange County Choppers in Montgomery, N.Y. The episode, which airs at 9 p.m. on the cable network TLC, will document the creation of this unique motorcycle.
Big-time clients are fairly normal for Shawn Lawless, president of Lawless Industries, but publicity isn't. Most of his designs are meant to be as unobtrusive as possible.
Lawless designs underbodies of floats for Disney amusement parks in Florida, California and other countries. The battery-powered devices produced by his 12-employee company on South Avenue are meant to be quiet, slow and safe.
Orange County Choppers, however, is all about loud, fast and edgy.
The bike on this week's show was ordered by Schneider Electric, a French company that provides electronic controls for a variety of industrial equipment. Schneider wants to use the bike as a showpiece for its equipment.
The bike features a touchscreen with all of the gauges and controls, cameras on the front and back, and four computers that handle all of the engine and motor functions.
It all started in September when a Schneider official asked Lawless if he would be interested in coming up with a design for a hybrid motorcycle that retained its muscle.
Lawless not only agreed but he upped the ante. He suggested a design with four modes.
Two of the modes are electric only. One of them uses just one electric motor and produces 50 horsepower, or enough to go 60 mph. The other uses two electric motors, so it has 100 horsepower.
Another mode operates like a hybrid car. It alternates between using both a gasoline-powered engine and an electric motor. This mode can be used for longer trips because the bike travels only about 40 miles when using only battery power.
But it's the last mode that makes the bike worthy of prime-time TV. It features all of the engines firing at once, which produces 200 horsepower and a top speed of more than 100 mph.
"It can be whatever you want it to be," Lawless said.
Lawless had to work quickly. The TV folks wanted a prototype in two weeks.
"They basically said you have to invent a hybrid electric vehicle, and you have a couple weeks to do it. And if it works or it doesn't work, it's going to be on TV," Ebie said.
Lawless' crew immediately got to work.
"We worked a lot of hours and a lot of overtime and on the weekend," he said.
Lawless proved his design would work by retrofitting an old motorcycle with an engine from a garden tiller and two battery-powered motors. He took it out to Quaker City Raceway near Salem and topped out at more than 100 mph.
Next, he brought in Ebie, who works for Crescent Electric Supply, a distributor of Schneider products. They had two more weeks to integrate the Schneider components.
Ebie wrote 100 pages of computer code and installed the automation controls that were attached to a motorcycle in a sidecar.
All of that was delivered to the TV studio, where the Orange County Choppers crew molded it into a new creation.
"They took that pile of parts and created a rideable work of art," Lawless said.
The taping was completed later in the year, and Lawless and Ebie were there for part of it.
"How much they show us on the show is up the TV producers," Lawless said.
The bike made a brief stop in Boardman in December so Lawless and Ebie could make some adjustments.
Given that the components in the bike cost hundreds of thousands of dollars, they were careful.
"It was a little nerve-wracking taking it on the first ride," Lawless said.
Schneider now will use the bike for promotional purposes at trade shows.
shilling@vindy.com