GM's Cruze goal: 1 million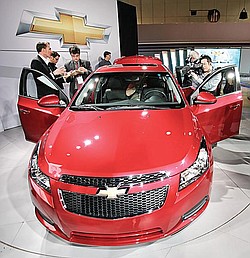 Photo
The press gets a close look at the 2011 Chevrolet Cruze after its unveiling at the Los Angeles International Auto Show in Los Angeles. It debuted there last month. This week, the Lordstown-built car is featured at the North American International Auto Show in Detroit.
That sales projection for the new compact car to be built in Lordstown far exceeds that for the company's new electric car.
By Don Shilling
General Motors is highlighting the importance of the Chevrolet Cruze as it shows off the Lordstown-built car at a Detroit car show.
The Cruze is critical to the automaker's future, even more important than the Chevrolet Volt, said Bob Lutz, GM's vice chairman.
The executive told The Detroit Free Press that the Volt, a plug-in electric car, is receiving much attention from the automotive press, but its importance paled compared with the high-volume Cruze. GM hopes that Cruze sales will reach 1 million worldwide, while Volt sales are expected to be about 60,000.
The Cruze already is in production in other countries, but the U.S. launch is scheduled for this summer.
The Cruze was one of the small cars featured at a news conference that GM had Monday at the North American International Auto Show.
James Bell, executive market analyst for Kelley Blue Book, said he was impressed when he drove the European version of the Cruze, and he's hoping the U.S. version will perform as well.
"We're all very anxious to drive it. That's where, hopefully, its advantage lies," he said.
The Cruze features a six-speed automatic transmission, and two of the three trim lines have a turbocharged engine.
The transmission is designed so that it has enough gears to save gas at highway speeds but still have power to handle rapid accelerations. The turbocharger delivers more air to the engine, which boosts accelerations.
"We hope it provides a Honda Civic-like driving experience, where it's fun to let it rip every now and then," Bell said.
While the Cruze styling doesn't stand out, it's clear that GM has upgraded the interior of the car with better materials and design, he said.
Overall, he said the Cruze is a huge improvement over the Chevrolet Cobalt, which has been made in Lordstown since 2004.
"The Cobalt showed up ill-prepared, but the Cruze looks like it will be equal to or better than the competition," he said.
GM has been trumpeting the fuel economy of the Cruze, which it said will get up to 40 mpg on the highway in a high-efficiency model.
Bell said he expects that model to be released a few months after the first Cruze models are launched. GM hasn't been specific about the fuel economy for the other Cruze models.
shilling@vindy.com