Engineered For Fun: Model-train show pulls into Niles, draws a crowd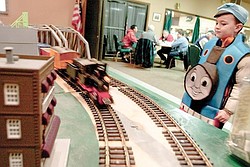 Photo
Wearing a Thomas the Tank Engine outfit, Bryce Pavlov, 4, of Poland, watches a model train rush past during the train show at McMenamy's on Sunday afternoon.
For many enthusiasts, their love of the hobby began in their childhood.
By Bob Jackson
NILES — Liam Treharne got his first model train for Christmas this year, but even though he sees it every day, he doesn't know it's his.
That's because Liam is only 5 months old.
"I had my first son, so I had to do it," said Liam's father, Brian Treharne of Columbiana, explaining why he bought a model railroad about a month after Liam was born and set it up to run around the top of the boy's room. "It's his train. He doesn't know it's his yet, but he likes to watch it run."
Brian and his wife, Michelle, had four daughters — Kaylee, McKenzie, Madison and Ainsley — but he waited until they had a son to renew his interest in model trains.
"I used to play with the Little Tykes trains when I was a kid," he said. For his son, he bought a Lionel set that he intends to expand as Liam gets older.
But it's not something that only father and son will work on. Brian said his daughters have taken to the hobby as well.
"They all love it," he said. "They're all little artists. They help me out with painting and details."
The Treharnes were among hundreds of people who turned out Sunday at the Youngstown Model Railroad Association's annual model-railroad flea market at McMenamy's Banquet Hall.
The event, in its 40th year, featured 185 tables filled with model-railroad equipment, memorabilia and railroad-related items for display and sale from 95 vendors, said Jim Pope of Berlin Center, who serves as the club's president and event chairman.
He said it was the biggest show the club has had.
Pope, 74, said some 500 to 600 people attended the show, with most of them looking to enhance their model-train sets that have been in their families for years. He said building model railroads is a hobby that has its roots long before today's craze with video games.
"It seems that everybody who is into the hobby got a Lionel train for Christmas at some point," Pope said. "That seems to be what gets them started. Then [the train sets] are like rabbits. They just kind of multiply and expand."
That was exactly how Lang Collins of Canfield got started as a toy-train collector. Collins, 65, said his father bought him a Marx train for Christmas in 1950, when he was 5. The impact of the surprise upon seeing that train running under the family's Christmas tree that morning is still fresh in Collins' mind.
"My father had bought a record of the old Pennsylvania Broadway Limited [train] that used to run between New York and Chicago," Collins said. "He put on that record, and he started the train. You could hear the whistle, and you could hear the conductor calling out. It just wrapped you up as a little kid."
Collins said he still has that same train, which still runs, and he still sets it up every Christmas. It was the only train he owned until some 20 years ago when a friend from church, also a model-railroad enthusiast, convinced Collins that he needed to get another train.
Although there are a handful of young people who get involved in the hobby, Pope said it's traditionally something shared by people who grew up during a time when trains were more visible than they are today.
"Maybe somebody grew up near a railroad track and saw a particular train go by every day. Or maybe their father or grandfather worked for the railroad. There's just something about trains that got their attention and drew their interest," Pope said.
But he said growth of technology and special effects that are available with modern train sets should help lure younger people who are interested in electronics.
"It's become a lifetime hobby," he said. "It can be a very creative and educational hobby."
Bill Lawson of Youngstown, like many others at the market, said he's collected model trains since he was 8.
"I've just always loved trains," said Lawson, 46, executive director of the Mahoning Valley Historical Society.
His father also was a train collector, and his paternal grandfather worked for a railroad in Pittsburgh.
"So it's just something that has always been special to me," he said.
Pope said the club, which was founded 52 years ago, will have another flea market March 14 and also has open-house events twice a year at its headquarters at Raccoon and Four Mile Run roads in Austintown.
Proceeds from the events help fund the club.